Delhi-leg of Mahindra football challenge from Friday
913 //
01 Nov 2012, 18:51 IST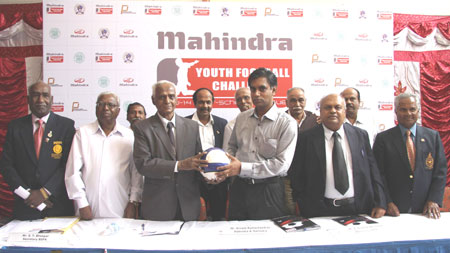 New Delhi - The Delhi leg of the third edition of the Mahindra Youth Football Challenge (MYFC) will kick off Friday with 32 school vying to bag the honour of 'Champion School' of Delhi.
The tournament is designed to select the best footballers, who will train at the legendary Celtic Football Club of Scotland.
The Delhi Intra-City Round of the Under-14 School Football Tournament and talent hunt will feature 32 of the leading soccer playing schools from the city, who will compete among themselves.
The Delhi champions will then lock horns with six other champion schools from Bangalore, Kolkata, Kerala (Kochi and Kozhikode), Mumbai and Goa in the Inter-City Finals to decide the winner of the Mahindra Youth Football Challenge.
Playing in seven cities ensures that the tournament casts a wide net to identify some of the most talented junior footballers in the country.
The Mahindra Group has partnered with Scottish football giants Celtic Football Club, who will take on the responsibility of training and grooming young talent identified through this initiative.
The champion school will receive a cash prize of Rs.50,000, along with the winner's trophy, while the runner-up team will win a cash prize of Rs.30,000 and a trophy. There will also be awards such as 'Star Performer of the Game' and individual appreciation trophies for the 'Best Striker', 'Best Mid-fielder', 'Best Defender' and 'Best Goalkeeper'.