Dempo coach Armando Colaco responds to AIFF's show cause notice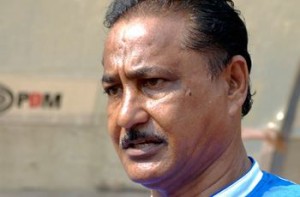 Dempo coach Armando Colaco has finally responded to the show cause notice issued by the All India Football Federation (AIFF) for allegedly entering the field of play forcibly during their I-League match against East Bengal on November 3. The show cause notice was issued on November 14, with Armando being given a week to respond.
The most successful coach in I-League history was quoted as saying in an English newspaper that he would quit coaching if the charge against him was proven true. Armando has now given his official reply, a copy of which is with Sportskeeda.
"To the best of my knowledge and belief I did not enter the field of play for protesting against the referee's decision. My colleagues as well as the players on the substitutes have confirmed that I did not enter the field of play. The fact that neither the referee cautioned me nor did the reserve referee come towards me shows that I did not commit any infringement.
"No doubt, I was definitely agitated when the referee denied my team an obvious penalty and instead cautioned my player for diving which left me furious, yelling and shouting, which is normal and happens with any official at the spur of the moment decision, but in no way did I enter the field of play to protest a referee's decision," Armando wrote in the letter.
Armando added that he had only slightly moved out of his technical area to calm down his players and stop the situation from getting out of hand.
"I do accept and admit that I moved out of my technical area and proceeded to the right side of the touch line when I noticed that my players were still reasoning with the referee, but this was only to calm down my players and to direct them to forget everything and to carry on with the game," he added.
Armando also questioned the delay in the issuing of the show cause notice as it was done 11 days after the match. The 59-year-old added that he deserves to see the match commissioner's report, referee's report and the video recording, based on which the AIFF made their decision.
"The match took place on 3rd November and I really cannot understand why and how it took so much of time to issue me a show cause notice on the 14th. The time taken in coming to a decision appears to be prompted less by a desire to enforce match discipline and more by a dubious after-thought.
"I want to elucidate here that throughout my sporting career, both as a player and now also as a coach, I always conducted myself in a very dignified and respectful manner and will continue doing so as long as I live. As you have refused to furnish the documents on which you state you have based your decisions, I reserve the right to add to my reply in case of need in future," he concluded.