FIFA U-17 World Cup 2017: New Zealand announce 21-member squad for showpiece event
169 //
21 Sep 2017, 18:42 IST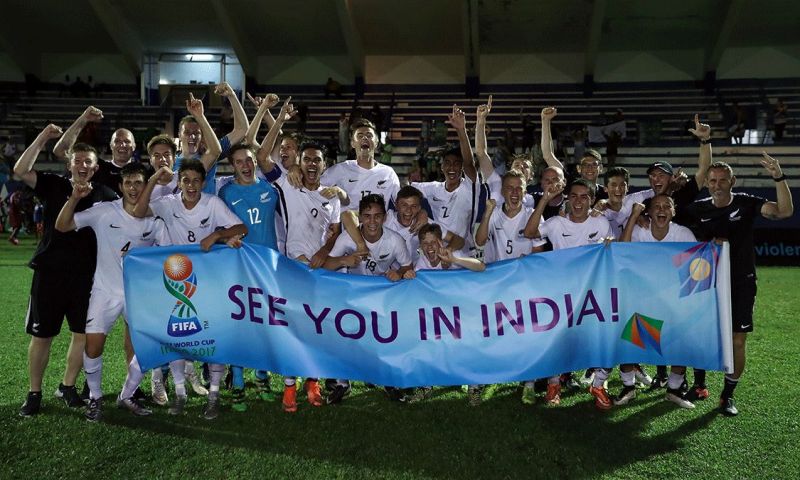 What's the story?
New Zealand have announced their 21-member squad that they will be fielding for the impending FIFA India U-17 World Cup in India. Though their men's team may not be much in the know, these New Zealand colts are no pushovers. Known as the Young All Whites, they are known to put up a tenacious fight and look determined to make their mark in this sub-continental edition of the tournament.
In case you didn't know...
Although New Zealand have never won the FIFA U-17 World Cup, they have qualified for the main fray six times in succession including this one. Overall, they have experienced playing at the U-17 level seven times before this. So they are pretty gritty especially if you remember the 2009 edition in Nigeria when they moved on to the knockout stages for the very first time and repeated that accomplishment in Mexico 2011 and Chile 2015. In Chile 2015, New Zealand stretched the mighty Brazilians in the round of 16 before being denied by an injury-time goal.
They qualified for the 2017 U-17 World Cup as the winners of OFC U-17 Championship.
The heart of the matter
This is their coach Danny Hay's second outing at this level. He was the one who led them into the last 16 at 2015 Chile and has stayed with them since. A former international with 31 caps in all – being a defender and captain at one point to boot – he knows how the penny drops on the pitch.
Here's the team that made the cut:
Goalkeepers: Jacob Clark, Zac Jones, Nicholas Milner
Defenders: Liberato Cacace, Boyd Curry, Ben Deeley, Matthew Jones, Joshua Rogerson, Jordan Spain, Emlyn Wellsmore
Midfielders: Willem Ebbinge, Elijah Just, Oliver Duncan, Kieran Richards, Kingsley Sinclair, Oliver Whyte, Leon Van Den Hoven
Forwards: Matthew Conroy, Charles Spragg, Matthew Palmer, Max Mata.
What's next?
The New Zealanders are placed in Group B with Mumbai being their home ground during the group stage and will play their first game on October 6th against Turkey. Thereafter, they take on the might of South American heavyweights Paraguay and size up Mali, African champions no less.
Author's take
New Zealand will be looking to hop beyond the round of 16 for sure but they do have tough negotiations to deal with in the group stages. If they manage to emerge through they will be expected to be all the stronger for it.
If not anything, you can expect goals from this squad when they are on song– they have dumped the ball at the back of the opponent's net 27 times in five matches on route to their qualification.