Football Shorts – Ow, my hand hurts
1.37K //
26 Mar 2013, 16:47 IST
The ref is a Donkey
According to Terek Grozny's stadium announcer anyway.
The Chechen side could face a stiff fine after the club's chairman criticised referee Mikhail Vilkov in the match against Rubin Kazan last weekend, as well as the stadium announcer's jibe over the PA system.
Chechen leader and honorary Terek president Ramzan Kadyrov called Vilkov a 'sellout' and continued his tirade during an attempted apology:
"I want to apologise to the entire football world for my remarks but not to the referee. It was a terrible game because the referee was biased. He did everything possible to change the outcome of the match – didn't award a (clear) penalty and gave (Rizvan) Utsyev a second yellow."
Lovely stuff.
Beister banned for belting meltdown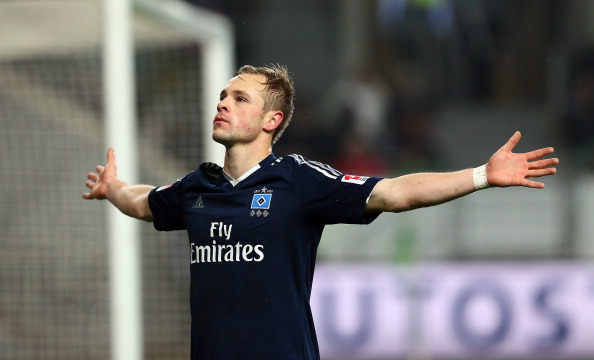 Hamburg forward Max Beister has been banned for five games by the DFB after kicking Augsburg's Daniel Baier as the two attempted to win a ball in the air, then continually insulting the referee as he attempted to get him off the field.
Top, top melting.
Kevin Trapp Injured While Shooting Advert
The Eintracht Frankfurt goalkeeper broke his hand while shooting an advert with Germany's Under-21 team. Germany assistant coach Hansi Flick told reporters:
"We were shocked when we heard. Team manager Oliver Bierhoff talked to him and we wish him a quick recovery. We were told that it was during the shooting but I do not know more. He played a superb season and it is also a major loss for Eintracht."
Eintracht must be fuming about this. Trapp has been an ever-present from them this season until now, and considering the injury didn't happen on the training ground on in a match, it's believed they will be looking for compensation from the DFB.
Speaking of goalkeepers breaking their hand…
Wolves goalie Carl Ikeme also broke his hand in strange circumstances.
No advert this time, but Carl punched a tactics board in frustration at half-time of the Wolves – Bristol City match after a bollocking from manager Dean Saunders for his part in a bizarre own goal. Dean attempted to insist the injury happened on the field of play, but he eventually admitted the full story:
"After the game I didn't know he had broken his hand. I have tried to protect Carl and the club and keep everything that went on in the dressing room within the dressing room. I am forever rollicking the players and what is said in the dressing room doesn't normally come out of there. I just tried to protect Carl after the game because with the situation we were in it wasn't something I wanted to talk about.

I wanted to protect Carl and protect what goes on inside the dressing room but now it has all come out I have a responsibility to let the supporters know why he's not available to play. Carl was frustrated at making his mistake and has punched the tactics board which is only cardboard but there is a metal bar at the back of it which has damaged his hand. He has not meant to break his hand."
Giorgos Katidis banned for Nazi salute
The AEK Athens midfielder has been banned for the rest of the season by the Greek giants after he made a Nazi salute to fans at the end of the game against Veria. Giorgos has also been banned for life by the Greek Football Federation for playing for Greece at any international level.
To be fair to him, the 20 year old asked to be dropped for his actions and has accepted full responsibility for his actions:
"I feel terrible for those I upset with the stupidity of my act.

I also understand fully the reasons for the decision made by the Greek Football Federation to which I owe a huge apology as it has helped me to get where I am in the professional game. I cannot turn the clock back but I want to clarify I am not a fascist or neo-Nazi or racist. I have a step brother from Puerto Rico and all my family are from the Black Sea and have experienced racism in the worst ways.

There is no reason to look for excuses. I was completely wrong and I will pay for it with a lot of pain because despite being only 20 my career is now at risk. I sincerely apologise to my team mates and everyone involved with the club that I have insulted in not knowing exactly what I had done in my celebration. The fact I did not know what I was doing is no excuse.
Let's hope it was just youthful naivety and nothing more.
Staying with AEK Athens…
Not the best week for the club as president Andreas Dimitrelos was arrested over 170 million euros ($219.73 million) in taxes owed by the Greek top flight club. The club said in a statement:
"The voluntary attendance of our president Andreas Dimitrelos at police headquarters concerns club debts from previous administrations which have been restructured by Article 44 (of the bankruptcy code) and for which the present administration is not liable as they have not arisen out of the current fiscal year. On the contrary, up to this point Mr Dimitrelos has managed to keep AEK Athens alive, so much so that we are all united in the hope for our final victory and salvation."
Millionaire Carlo Cudicini sues single mother over road crash
Daily Mail headline writers, eat your heart out!
The LA Galaxy goalkeeper was involved in a crash in 2009 whilst at Spurs, and the Italian claims the injuries suffered in the crash cost him up to £8.8 million in expenses, loss of earnings and future loss of wages. Cudicini also claims the accident cost him his prospects of earning a regular game at Spurs with the London club recruiting Brad Friedel as cover to rival Heurelho Gomes while he was out.
Asda employee and single mother Jennifer Bernard was the other party involved in the crash, and has been named as a defendant in the lawsuit along with the insurers. While (unlike other news sources) I'll point out she is NOT liable for any of the costs regardless of the outcome, she still received court papers due to being named as a defendant. Jennifer will get her day in court, it seems.
Clarence Seedorf sent off for leaving pitch the wrong way
Yes.
The Dutchman, currently playing in Brazil with Botafago, was sent off for leaving the pitch in the wrong way.
Clarence was subbed in stoppage time with his team 2-1 up against Madureira. Seedorf, who scored the winning goal in the 68th minute, walked towards the Botafogo bench but was ordered by the referee to go off on the other side of the pitch to save time. Clarence protested and was booked for his troubles. He then turned his back on the referee and was given another yellow card.
I can't add anything else to that really.