G.I.F.T. set to catalyze the football business
891 //
13 Mar 2013, 18:21 IST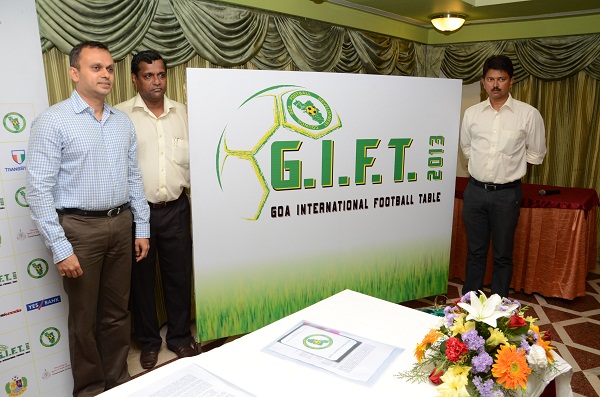 Panjim - Goa Football Development Council (GFDC) today announced that the first football-specific conference in India will be held on March 15th and 16th, 2013 at the Marriot Hotel in Goa. Not only was the logo for 'Goa International Football Table (GIFT) unveiled, but also details on the dynamic conference were announced – from speakers to topics, to the nature of the premier footballing conference.
Apart from releasing the draft 'Football Policy' that will be unveiled by Hon' Chief Minister Manohar Parrikar to delineate a structured approach, keeping in mind Goa's culture, and help develop a football-based eco-system, GIFT will focus on six major components:
· Infrastructure - Goa, India's new football infra story
· Talent Development - Goa, the catalyst and gateway to Indian football success
· Community Development / Social Upliftment - Sports (football) and the simple upliftment of society
· Marketing & Sponsorship - When football meets Moneyball
· The Professionals - Upgrading our competition to export stars
Furthermore, the conference will launch the 'GIFT Awards', which endeavors to honour and recognize achievers, and bestow lifetime achievement awards to Goans who have contributed to football. The awards ceremony will see four players receiving the lifetime achievement award along with a few coaches and referees. GIFT will also reward the most promising U20 footballer in Goa, Mauvin Borges of the Sesa Football Academy, and will felicitate the 1978 Goa Schools football team, which emerged as champions at the 24th National School Games (Autumn Meet) in Srinagar, securing the football gold for the first time in the history of Goan football.
Goa will be exposed to an array of speakers from Europe, Africa, the Asian Football Confederation (AFC) and All India Football Federation (AIFF), apart from India's leading football thinkers, businessmen, marketing and media executives.
The speakers will include Kushal Das, General Secretary, All India Football Federation; Wim Koevermans, Coach, Indian Football Team; Shrinivas Dempo, Chairman, Dempo Sports Club; Radhakrishnan Sreenivasan, Sports Editor/Senior Presenter, Neo Sports; Sundeep Misra, Head, Sports Initiatives, Network 1; Dr. Robin Petersen, CEO, South African Football Association; Joan Cusco, Executive Vice-President, FIFA Beach Soccer World Wide; Mohamed Basir, Coach Education Department; R Sasikumar, Group MD, Red Card Group; Agnello Dias, Chairman & Co-Founder, Taproot; Hass Aminian, Director of Business Development for Asia Pacific, Sportfive; Arunava Chaudhuri, Chief Editor rs1.tv/ Sports Commentator; Raj Gomes of Salgaocar Sports Club; Joshua Lewis, CEO, Kenkre Football Academy; Peter Vaz, President, Sporting clube de Goa; Porush Jain, CEO Sportskeeda; Valanka Alemao, CEO Churchill Bros SC; PK Mukherjee, MD, Vedanta SESA FA; Mr Mariano Barretto, UEFA Pro License Coach; Sioulas Anastasios – Coach, SESA GOA FC; Vinod Parkott, President, Vasco SC.
Dr. Rufino Monteiro, Chairman, Goa Football Development Council, said, "A revolution of Goa football has started and we at GFDC are ensuring towards creating policy, competition, infrastructure and talent. Goa serves as a catalyst and gateway for football in India. Our endeavour to achieve our dream of putting Indian football on the International and world map is gradually unfolding. We are confident that the inaugural Goa International Football Table will serve as a vital platform to ensure the sport develops and players get the best nurturing and promotion."
Mr. Elvis Gomes, Executive Director – Sports Authority of Goa, Vice President – Goa Football Association & Member Secretary – Goa Football Development Council said, "Preparations to hold the first football specific conference in India are on. We would like to take this opportunity to welcome our esteemed speakers to Goa and believe that GIFT will provide us with the perfect platform to initiate vital knowledge exchange on the development of the sport in Goa and the rest of India. We view the future with hope and the day is not far when Goan football will rise to match up to International standards."
A special football parade will also be held akin to a victory parade, with emerging players and football stars from yesteryear in attendance. The star-studded parade will include celebrity players like Sunil Chhetri, Inder Singh, Magan Singh, Syed Naeemuddin, Suneil Shetty and well-known football juggler, Jestes Antony among others. The sporting spectacle will flag off on 16th March in Panjim and will see football stars travel to five popular schools around Panjim, where they will interact with school children and hand over footballs to promote the sport.
Promoted by Knowledge Partner TransStadia and supported by the Government of Goa, Goa Football Development Council, Goa Football Association, All India Football Federation and Beach Soccer Worldwide (BSWW), the first edition of GIFT has been organized in association with financial partner YES Bank, banking partner Oriental Bank of Commerce, outreach partner Nivia, magazine partner 90 minutes and online partner Sportskeeda. GIFT is strongly positioning itself to make Goa the gateway to Indian football.