'Gifted' fantastic five learn from their 'didis' at the Indian national women's team training camp
1.87K //
03 Mar 2015, 16:35 IST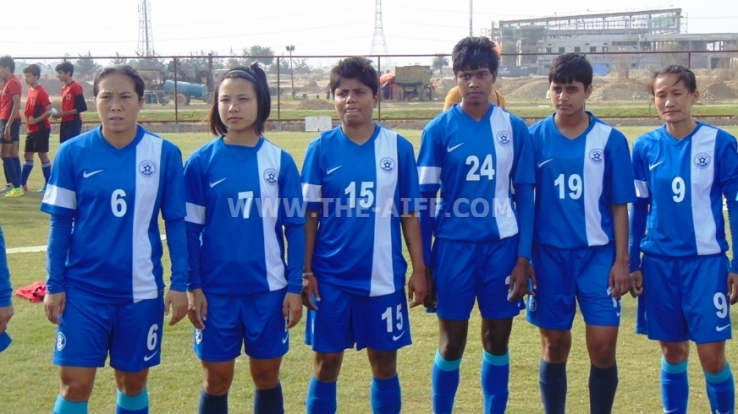 NEW DELHI: Hard work and dreams often go hand-in-hand. The sacrifices made compliment the dreams which leads one to success. Ask the young contingent within the Indian National Women's Team and you will understand better.
The Fantastic Five, Pyari Xaxa, Margaret Devi, Sangita Basfore, Panthoi Chanu and Sanju are part of the 31-member Indian National Women's Football team which will participate in the Olympic Qualifiers later this month.
The average age of the five is just 17.6 years, but their football dismisses all talk of age as just another number. Although they have represented India at the AFC U-19 level in November 2014, making it to the national team was a "dream come true" for each of them.
At the practice session, as they get ready, from a distance Bembem " didi" watches; or rather, all the "didis."
The girls consider Bembem as their icon. And the icon says, "We have a very good contingent now. I am very happy that the girls have adopted football as their first love. They have worked hard for it. And they deserve to be here. These players are gifted and with time they will evolve into better ones."
Bembem's had a career of 19 years! The girls always look up to her, and frankly, who doesn't?
Head coach Sajid Dar seconds Bembem and adds, "Here is a group of young and talented footballers. When youth, talent and hard work mix together, a footballer can achieve anything. And these players have the ability to do that."
Just look at the Fantastic five once more. A lot of sacrifices have been made. Staying away from home at a tender age, sacrificing the comforts of life just to focus and get into an affair with football remains their driving force.
Since the girls are an integral part of the national team, they get to brush shoulders, share experiences and learn something new from their role models like Bembem and Bala Devi.
"We learn from them each and every day. They have helped us a lot to gel with the squad," says Panthoi. "Initially I was a bit scared. But with time it vanished. I am thankful to the senior players for making me feel like home," she states.
"Didi log help a lot. They guide us through each and every obstacle. Moreover, the coaches are always there to guide us," states Margaret.
"The level of hard work that we have put into achieving this is immense. But we are happy that we are here and we plan to sustain this," says Sangita. Pyari agrees, "This is a dream come true for me. After sacrificing a lot, I have finally achieved something that I am very proud of."
Goalkeeper Panthoi got into an affair with the ball and asserts that her attachment has only intensified with time. Nevertheless, the five joust in unison and agree that the experience was all worth it in the end.
"The experience of being in the national camp has completely changed me as a person. I believe that I can accomplish anything now if I work hard for it. The level of passion is what matters," expresses Margaret.
"It was, and is worth it. There were torrid times when I used to think of giving up, but I am happy that I did not. I am reaping the benefits now," Sanju goes on.
At the Shiv Nadar University Campus in Dadri, the players train hard. Going down the flanks at one juncture, Pyari takes a tumble. Bembem, close by, goes up and lends a helping hand to her, easing her back to her feet. And then it continues again.
"We are one big family which is built on love," they say.