Goa eyes football for socio-economic development of state
797 //
08 Mar 2013, 14:35 IST
Panaji, March 8 (IANS)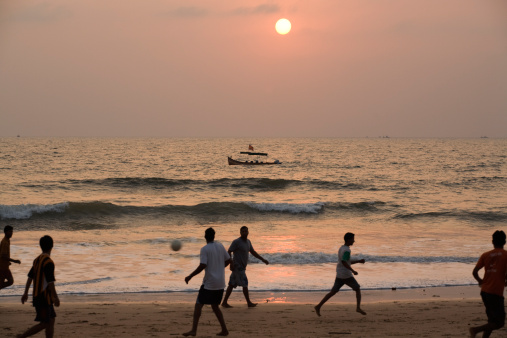 Goa wants football to be a catalyst for the socio-economic development in the state.
The Goa Football Development Council (GFDC), organisers of a two day football-specific conference due to be held here later this month, said Friday that the state government will unveil its much awaited football policy for the state during the conference which begins March 15.
"The inaugural Goa International Football Table is an important part of GFDC's multiple steps to channelise talent with the available infrastructure, facilities in the country and across the globe. The conference will be a landmark event in Goa and herald the beginning of a brand new journey in the development of football in India," chairman of the GFDC Rufino Monteiro said.
The inaugural 'Goa International Football Table' (GIFT) will also lay the foundation to initiate vital dialogue on the importance of football in relation to the socio-economic development of Goa and government officers, officials of football federations, clubs, players and coaches, members of the media, sponsors, brands and sports investors are expected to attend the event.
According to Elvis Gomes, executive director of the Sports Authority of Goa and member secretary of the GFDC, the event would play a crucial role in altering the course of the game for its stakeholders.
"Over the years, Goa has been synonymous with good quality, skilled football. Through the Goa International Football Table, we are here to take it a step forward to help develop the game and present players across India multiple opportunities to excel," he said.
Monteiro also said, that chief minister Manohar Parrikar is expected to unveil the state's football policy, which would make football the official sport of Goa and that the recognition would help give fillip to the sport.
"The theme for the 2013 conference will be 'Home Grown Heroes' and eminent speakers from across the world representing different organisations in the global sports industry will deliberate India's pending emergence on the global footballing platform," he said.
Monteiro added that the conference would create an annual framework and an environment for investment in the sport, networking within the community and create a interface for the stakeholders.
Discussions on topics ranging from talent, community development, competitions and infrastructure creation to professionalising the sport and marketing will be organised.
The 'GIFT Awards' will endeavour to honour and recognise young achievers in Goan football along with current and past players for life time achievement, players with promise, referee of the year, administrator of the year, and coach of the year awards. The winners will receive prize money and a trophy.
GIFT intends to create corporate interest in the state to help support initiatives that facilitate the overall growth of football. It will also attract investment towards developing the sport at the grassroots and make Goa a football powerhouse and role model state in India.