Help Pratik Shinde realise his football dreams through crowd funding
1.10K //
10 Mar 2011, 17:41 IST
As an Indian sports fan there must have been a lot of times when you would have mused about the lack of proper infrastructure, sponsors and professionalism in India and cussed the administrators a lot for the poor standards. That surely makes you one amongst the billions of Indians who care for the nation's sports but not one who wants to force a change.
Being part of the fastest growing economy and having some of the richest corporates in the world, how can we not be able to help the brightest sporting talents of our country who could write a golden future if given a chance.
Here at Sportskeeda, we have been privy to first hand accounts of a lot of burning problems in Indian sports. Since we believe in Mahatma Gandhi's words that go thus, "Hesitating to act because the whole vision might not be achieved, or because others do not yet share it, is an attitude that only hinders progress", we have decided to take action and come up with a solution.
Sportskeeda is thus proud to introduce the concept of "Crowd Funding for Athletes".
We are sick of listening to heart wrenching stories about athletes suffering due to lack of sponsors and thus unable to realize their dreams, and sympathizing with them. Some cut down on their equipment, some cut down on their diet; some miss career turning events because they can't afford an air ticket!
On the other hand we've also endured is thousands of fans cussing the administration for the athletes' woes instead of forcing a positive change.
Taking inspiration from the fact that 'little drops make an ocean', we believe that 1000 fans managing to donate 100 rupees each to make a lakh can make a difference to the lives of deserving athletes. More than what our athletes wanted right?
Hence the concept of Crowd Funding is born.
To start we need Rs. 15,000 for Pratik Shinde, who is poised to writing a glorious chapter in the annals of Indian football, to realize his dreams.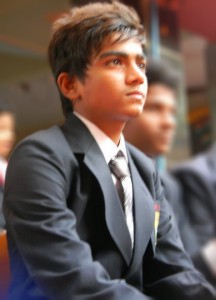 15 year old 'golden boy' Pratik Shinde stands on the brink of writing a new chapter in the annals of Indian football
15 year old Pratik Shinde, who hails from a very modest background, defied all odds and created history by becoming the youngest Indian to get a contract in a foreign league when he was offered a 1 year contract with US Soccer League club Glavestone Pirate SC. Having fought through problems of poverty and lack of sponsors, Pratik is now well placed to making it big in the International stage and help fly the Indian flag high.
With your help, the golden boy from suburban Mumbai can realize his dreams by putting his financial constraints to bed, focus on improving his talent and earn his ticket to fame.
His Stay would be sponsored by the Glavestone Pirate SC head coach.

His Air Tickets are sponsored by Cox & Kings Ltd.
The 15,000 Rs are needed to buy him a proper football kit and some decent clothes.
To know more about him, you can read Sportskeeda's interview with Pratik Shinde.
How can you help?
1) Email us at crowdfunding@sportskeeda.com and tell us how much money you can pledge (Rs 100 to Rs 500). We will revert back with his Bank Account Details.
2) Share this article, email this article and call up your friends to help him.
So let's be responsible fans and contribute towards bringing about positive change in Indian sports. Be part of the 'Crowd Funding' revolution and help Pratik Shinde live his dreams!
P.s We have completed the collection of 15,000 Rs. To Check the list of recent donors please visit our CrowdFunding Page