Higuita promises his best show on Saturday
822 //
06 Dec 2012, 22:59 IST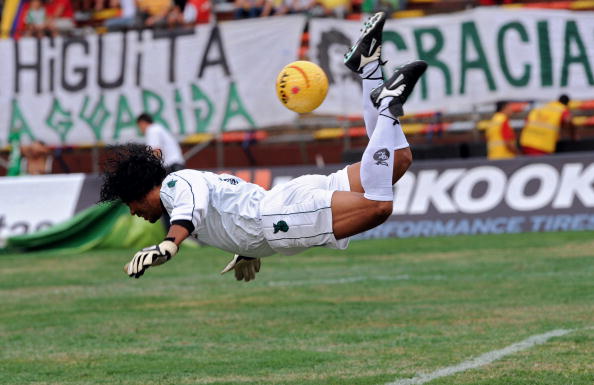 Kolkata - Former Colombian goalkeeper Rene Higuita Thursday promised to give "one of his best shows" in a veterans' exhibition game involving former Brazilian world cuppers and a local side two days later.
Known as much for scorpion kicks as also his crazy side during his playing days, Higuita was all praise for the Salt Lake stadium which would be the venue for the match.
"It is a very good stadium. The turf is very good. Grass is very costly to maintain so world over grounds are turning into synthetic grass. I hope there would be a good game on Saturday," Higuita said after inspecting the venue.
Higuita, sporting his famous curly locks, took a sprint at the stadium before meeting ex Indian internationals Gautam Sarkar and Subrata Bhattacharya.
The Colombian said he was overwhelmed at the love he received since reaching the city.
"I will give you one of my best shows on Saturday. It will be my way of saying thanks to this city," said the footballer, who often took on the mantle of a sweeper playing for his national team or club.
"I believed that the goalkeeper is just like the 10 out-field players. If given a chance he should help in the attacking intent of the team," said the world cupper.
Higuita admitted he was completely in the dark about Indian football, though he has read about Mahatma Gandhi and Mother Teresa before coming to the eastern metropolis.
Higuita will turn out for the IFA All stars Team which takes on Brazilian Masters in Saturday's game.
Masters would see in action celebrated soccer celebrities of yesteryears from the Latin American nation like Carlos Dunga, Robeto Carlos, Bebeto, Cafu, Juninho Paulista, Mario Silva and Zetti.