I-League clubs are a little impatient with foreigners – Former Sporting Clube midfielder Arturo Garcia
2.67K //
28 Feb 2014, 23:12 IST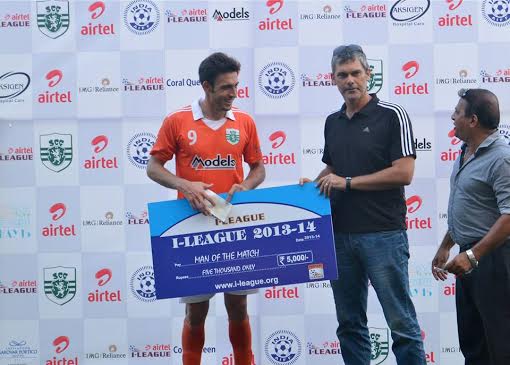 As many as 25 foreigners were released by I-League clubs this season with the rule allowing teams to change their outstation players at any point of the campaign until February 15 2014. While some foreigners were released because of poor performances, a few were unfortunate to suffer injuries.
One such player who had to leave the I-League due to a knock was Spanish midfielder Arturo Navarro Garcia. The Valencia youth product was a regular member of Sporting Clube's I-League title chasing squad and also played a key role in their run to the Federation Cup final in January.
However during the group stage of the Federation Cup, Garcia suffered a knee injury and that eventually brought a premature end to his spell at Sporting Clube.
"My contract was rescinded due to the injury as it would have made me miss four of the ten remaining fixtures this season, so that's why the coach and the club decided it was best to bring another player at a time when we are challenging to win the league," Garcia, who was replaced by Nigerian Martins Ekwueme in the winter transfer window, told Sportskeeda in an exclusive chat.
Despite not having recovered from his injury, Garcia was brought on as a substitute in the Federation Cup semi-final against Dempo. The 24-year-old successfully converted two penalties to help the Flaming Oranje reach the final for only the third time in the club's history but he also aggravated the injury.
"I played more than I should have. Maybe if I had not played against Dempo I would have been fine now, but then I wanted to help the team," he said.
Often off the record, foreigners allege I-League clubs of forcing them to agree on a mutual agreement for release but Garcia clarified that injury was the only reason behind his exit although he admitted about a general impatience among Indian clubs regarding foreigners.
"Yes, the injury was the only reason. The club was happy with my job and we were having a very good season so the exit was very respectful. (Are the I-League clubs impatient with foreigners?) I think so, a little," Garcia stated.
Looking back at his six-month stay in India, Garcia selected the best moments and also picked his toughest competitor.
"It has been a very good experience and I have learned a lot. The football and life here is very different from Spain so it has been a learning experience as a footballer and person. I have enjoyed it a lot.
"The highlights were to climb to the top of the table, reach the final of Federation cup and winning the Goa Pro League. There are a lot of good players I played against. If I have to name one, maybe Penn Orji. His workrate on the pitch is excellent," he concluded.