I-League: Dempo suffer home loss against United SC
1.28K //
24 Nov 2013, 02:38 IST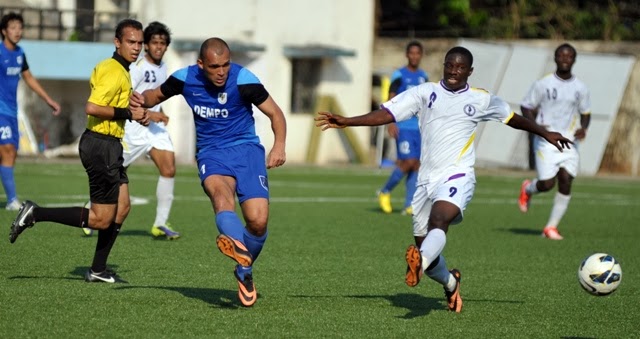 Former champions Dempo SC suffered an unnecessary 1-2 loss to United SC in an I-League Round 10 match at the Duler ground in Mapusa on Saturday afternoon.
Dempo SC started impressively, having numerous chances in the opening half but wasteful strikes left the match goalless at the break. Once ends were changed, United SC turned it around, and had Liberian Eric Brown to thank as he scored a wonderful brace.
The striker drew first blood in the 50th minute with a stunning effort and then capitalized on a defensive lapse to make it 2-0 only five minutes later. It stunned the hosts, and even though captain Clifford Miranda did raise hopes of a fightback, the visitors were strong in their resolve and trooped out with full points.
The win will dent Dempo and coach Arthur Papas' confidence. The Australian coach had reasons to believe what he trains was being put into practice, finally, but as chances went begging and the old defensive mistakes cropped up again, it was clear there is plenty of work to do.
Due credit must be given to Eelco Schattorie's side who gave a good account of themselves, and with Eric continuing in fine form, they always sensed a chance. Former Dempo striker Ranty Martins Soleye of Nigeria was not in his elements but it hardly mattered on the evening as United SC savoured a good win.
United were the first to have a look at the rival goal but C.K. Vineeth's cross lacked accuracy and then Bello Rasaq hoped for too much when he attempted to test the goalkeeper's resolve with a long ranger.
Dempo were slowly getting a toe-hold on the game. Beto had a chance from just outside the box and then Anupam Sarkar nipped an attack in the bud when he intercepted a cross from Debabrata Roy intended for Jeje Lalpekhlua. Alwyn George and Jeje subsequently had good looks at the United SC goal but could not convert.
In the second session, Brown drew first blood in the 50th minute. The Liberian striker found the mark with a stunning free-kick from almost 30 yards out, and then there was more misery for Dempo as a defensive lapse proved costly when Brown pounced on the opportunity five minutes later. Dempo found a way back into the game in the 60th minute as Clifford headed a Beto corner straight into the net. But United SC did not succumb again, sitting back instead and soaking in the pressure.