I-League: Former champions Dempo SC and Salgaocar FC both fight for survival
1.30K //
20 May 2015, 13:38 IST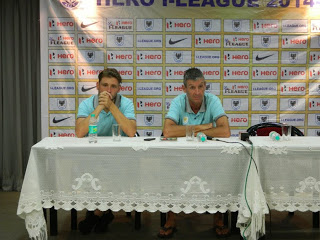 Dempo SC and Salgaocar FC are not looking beyond their I-League clash on Wednesday afternoon even as relegation stares at two of Goa's biggest clubs in the face. Dempo and Salgaocar FC are at the bottom of the league table and know that the threat of relegation is genuine with just three more matches left to be played.
"Yes, of course, the threat of relegation is there but I have always maintained that our fate is in our own hands. If we win our games, we will be safe. Nothing is lost for us and we do not have to depend on other match results to see us through," said Dempo coach Trevor Morgan.
Dempo failed to secure a win against Mumbai FC at the Jawaharlal Nehru Stadium in Margao in their last match as the teams shared the spoils. Morgan, though, was happy with the performance of his team and said they were the only ones – among the two teams – who tried to win the match.
"We tried to win the game. Our main objective was to try and win the match. It's never easy when you know you have to win and you are at the bottom," said Morgan.
"We know we are in a fight. We know we are in a not very healthy position. Coming on the back of what we had played in Shillong, it was a 50 times better performance," added Morgan, who will continue to miss the services of Carlos Hernandez and Haroon Amiri.
Salgaocar FC did not do well in their last game against Bengaluru FC, which they lost 1-3, and now have a battle on their hand to escape relegation. It will not be easy said coach Derrick Pereira, although he said he does not want to look beyond tomorrow's game against Dempo.
"Playing Dempo is never easy and we have to play them twice. I am not thinking about relegation or what will happen at the end of the season. I just want to focus on the first game against Dempo SC see what we can take from there," said Derrick.