I-League: ONGC and Mohun Bagan return goalless
625 //
09 Nov 2012, 19:05 IST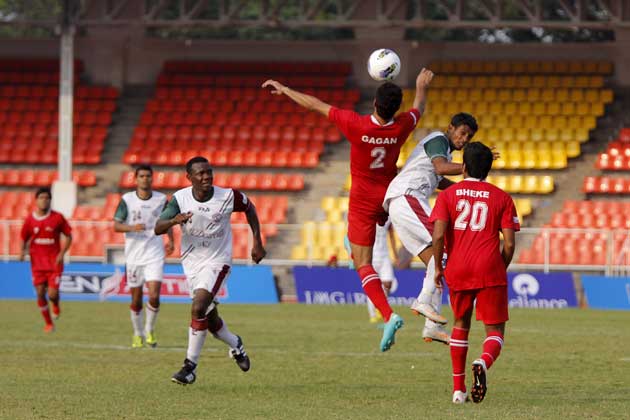 New Delhi -  A well-organised ONGC defence succeeded in policing Nigerian striker Odafa Onyeka Okolie excellently and Mohun Bagan had to settle for a goalless I-League game at the Jawaharlal Nehru Stadium here Friday.
The draw, however, didn't do ONGC any good as they still went to the bottom of the league standings with two points from five matches. The Kolkata giants slumped to eighth position with seven points.
Much was expected of Odafa, who had scored a hat-trick in his last match, but tight marking by the oilmen rendered him ineffective.
Bagan's interim coach Mridul Kanti Banerjee admitted after the match that Odafa did not get enough support and that his midfield did not click. He rued the absence of playmaker Manish Mathani who sat out with an ankle injury.
Banerjee admitted that to stay in the championship hunt, Mohun Bagan can't afford to drop points in these matches and it was a setback.
"We failed to take our chances today. Our midfield didn't click and Odafa could not move on. We need to win these matches if we are to win the league," he said at the post-match conference.
ONGC coach Subrata Bhattacharya said his tactics of double marking Odafa clicked and Mohun Bagan could do little as it was a one-man team.
"I am not satisfied with just one point. Today we shut down Odafa and Mohun Bagan failed to play. They rely heavily on him and if Odafa is kept quiet then Mohun Bagan would find it difficult to win," he said.
Mohun Bagan started with Syed Rahim Nabi on the right flank and Snehashish Chakraborty on the left but both were somewhat subdued.
The first chance of the match came the Kolkata way, but India international Jewel Raja shot straight into the waiting arms of ONGC's custodian Prosenjit ghosh in the 26th minute.
Two minutes later, Odafa's free kick from the edge of the box went narrowly wide.
Mohun Bagan's best scoring opportunity was wasted by Nabi in the 53rd minute. Snehashish's defence-splitting cross was headed wide by the India full-back.
In the 86th minute, Sabeeth headed wide an inviting cross from overlapping left back Biswajit Saha.
ONGC next play reigning champions Dempo at the Ambedkar stadium here Nov 16.