I-League: ONGC register an emphatic win against Shillong
669 //
22 Dec 2012, 18:53 IST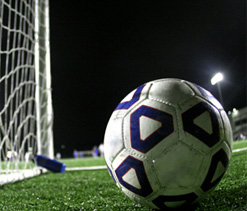 New Delhi - In his first match as coach of ONGC, Santosh Kashyap guided his team to an emphatic 3-0 win over fancied Shillong Lajong FC in a 12th round I-League match at the Jawaharlal Nehru stadium here on Saturday.
ONGC's foreign recruits Eric Brown and Japanese Yusa Katsumi excelled in this triumph. Eric scored the opener in the 19th minute and Katsumi got a brace in the second half.
Kashyap had just two sessions with ONGC but helped revive the confidence of his team as they notched their biggest win of the current I-League season.
ONGC is now on 10 points from 12 matches and Shillong Lajong remain on 13 points from 12 matches.
Kashyap hopes the momentum of this win will enable his team to improve in subsequent matches and avert relegation.
The Shillong Lajong's coach Desmond Bulpin said that his team had a small squad, with many teenagers and injuries were taking a toll as the league went on.