Indian Football: Lal Kamal Bhowmik nurtures a different dream
1.57K //
20 Mar 2013, 13:25 IST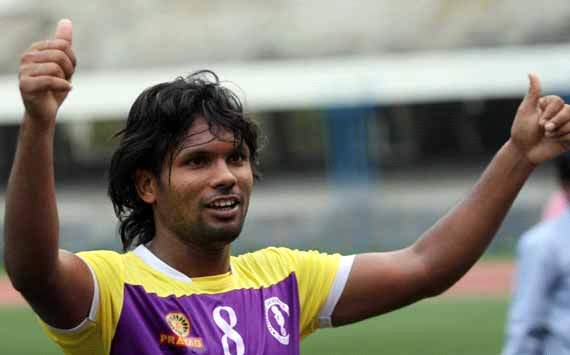 Lal Kamal Bhowmik, the national midfielder of Prayag United, has a dream of a different kind. The midfielder has been running a small football club near his home in North 24 Parganas, West Bengal for more than 10 years. There are around 70 boys now in his club, named Sodpur Real Athletic club. Lal Kamal's dream is to give football something back by nurturing these boys of the age group of under-9 to under-14. It is a rare example among footballers in Bengal so far.
The Prayag United midfielder, commenting on his mission, said, "There is another person, named Murari Mukherjee, who spends a lot for my club. We have a small ground where the boys train everyday. As I get busy with my own engagements with the club, I attend the boys' training session whenever I get time." The crafty midfielder, whose emergence as a footballer began from the IFA Shield nine years ago when he scored a stunning 40-yard goal against the junior squad of Bayern Munich in the Shield final in 2005, wants to make Wednesday's Shield final also memorable.
Bhowmick hinted he has to spend around Rs 50,000 every month for his club. He said, "You don't know about a few potential footballers of our club. I can mention two names. One is Aahon Patra. His age is hardly 13. You will simply be amazed to watch his skills with his left foot. We call him junior Messi. Another player is Deba Orao, a tribal footballer, who also is a 14-year old. He plays in the midfield. A few of my colleagues in Prayag United once went to visit my club footballers. They commented nobody can stop Orao from representing senior India in future." Lal Kamal Bhowmick is clear in his conscience. He said, "By the blessings of god, I have earned worthy amount of money from football. At the same time, football has created my identity in the society. So I always dream of making my club bigger and at the same time I feel I should contribute to the game by creating at least one or two quality footballers who can represent national team in future. I will certainly cherish the moments that time."
However, Bhowmick lamented for not being given an opportunity to take part in a single match in the recently concluded AFC Challenge Cup qualifiers in Myanmar. He said, "I expected I would be fielded in at least one match in our three group league matches." India's chances of qualifying for the final phase of the AFC Challenge Cup looks uncertain following the senior national team's loss to Myanmar in the concluding match.