Interview: Airtel Rising Star Participants in Manchester United Training Camp
3.46K //
13 May 2014, 09:14 IST
Airtel Rising Stars 2013-14 was the country's largest and most intensive six-month talent hunt conducted across seven cities.
Following its culmination, Eleven of India's finest under-sixteen football players grabbed the chance of a lifetime to train at the prestigious Manchester United Soccer School.
Sanath Valldares and Akram Khan from Mumbai, Arka Dey and Rajib Roy from Kolkata, Mohd Aqib and Karan Khurana from Delhi, Premchand Singh (GoalKeeper) and Niraj Singh from Bangalore, Liston Colaco and Jolitan Dias from Goa, and Rakesh K from Hyderabad flew to Manchester on 26th April 2014 .
At the Manchester United Soccer School, the players went through a week long training beginning 28th April and ending 1st May alongside the Manchester United Academy team. The camp took place at the Salford City Reds Stadium where players went through practical sessions and workshops on 'Live the United Way'. On May 2, the players were at the Aon Training Complex and witnessed the football festival along with medal presentation and closing.
The players also toured the iconic Old Trafford Stadium and watched the match between Manchester United and Norwich City.
Sportskeeda got a chance to interact with two of the players selected for the training camp, Karan Khurana who plays in the center midfield and Mohammed Aqib who plays as a left full back and talk about their experience.
Can you tell us a little bit about your experience at the camp?
Karan Khurana: It was a five day training camp with 11 players selected from all over India and 11 were selected from Bangladesh. The Manchester United soccer coaches trained us We had a really nice exposure and they taught us about the dynamic moves and how Manchester United plays.
Md. Aqib: It was a great experience to learn from the Manchester United soccer coaches. The training facilities provided were top notch. We had classroom sessions where they taught us about tactics and outdoor sessions. It was a great learning experience.
The selection process for Airtel Rising Stars was quite rigorous. Did that help you in the training camp?
Of course. To be selected after 6 month of training and knowing that you are one of the best in India is a great confidence booster. It also helped to build our game in every field and we could perform well outside India too.

Did you learn anything different from what you learned here?
Md. Aqib: It's not actually very different from what I learn at Baichung Bhutia soccer school. Being a left full back, the major focus was on pace and positioning with European football being quite faster than we are used to.
Karan: The facilities were quite good and the game is quite different. In India we use to resort to long balls here we were encouraged for short passes. Also the weather was a nice change and unlike you don't feel tired and dehydrated even after running for whole day.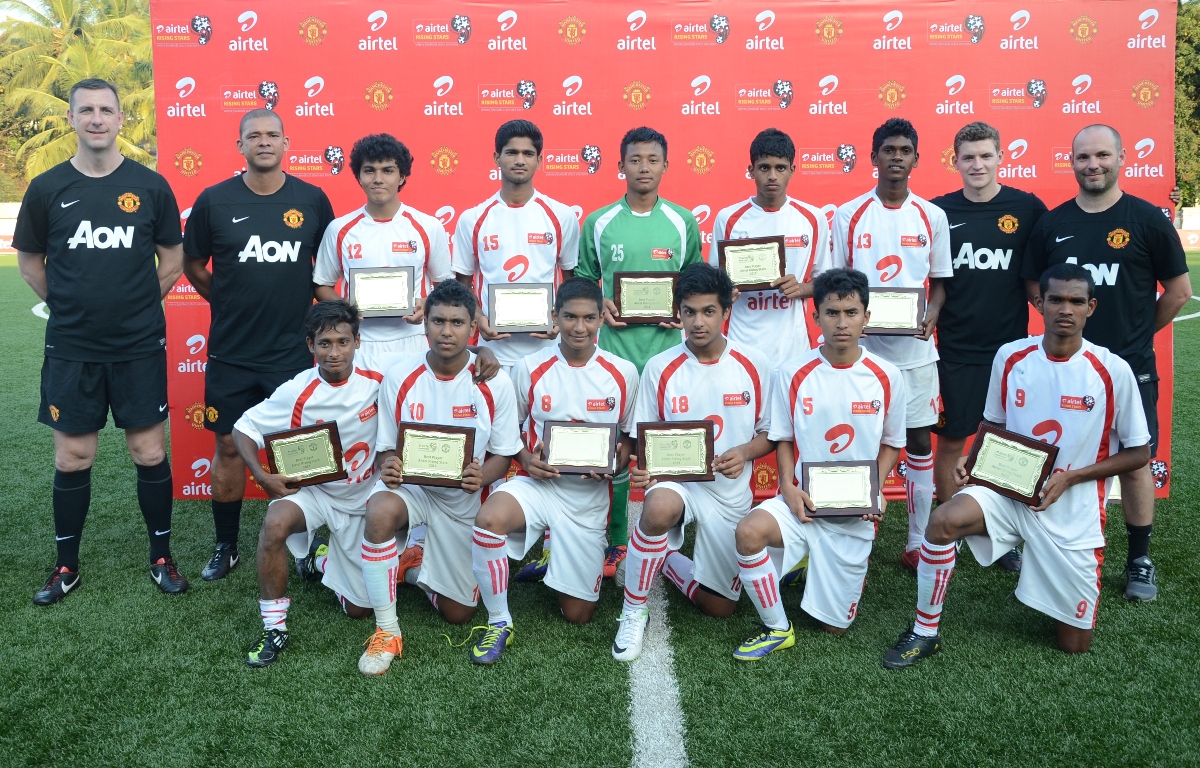 How was the tour of the iconic Old Trafford Stadium and watching the match between Manchester United FC and Norwich City FC?
It was the first time we watched Manchester United live in action. Seeing Ryan Giggs' first match as a coach was an iconic moment. The atmosphere was amazing and the stadium was fully packed. We got to see many of our favourite players in action. And to top it off Manchester United won 4-0.
What were your major takeaways from 'Live the United Way'?
It was a great session where they told us about Manchester United as a club and their philosophies. The major takeaways were how they play the game, the value of teamwork and how they deal with competition and the pressure of being such a huge club.
Who is your favourite Manchester United player? Did you get a chance to meet him?
Karan: My favourite player is Paul Scholes and I like Juan Mata in the current players.
Aqib: Being a left full back, obviously my favourite is Patrice Evra. But we didn't get a chance to meet the players.
You attended the award ceremony at the Aon training centre. How was that experience?
Actually we had a match with the players selected from Bangladesh that day which we managed to win. It was a great feeling to win it for the country and we were awarded gold medals. So it was a very proud moment for us.
Are you confident of playing professional football in Asia or even Europe in the future?
Aqib: Right now I am focussed on my 12th. But yes I am confident of succeeding at the highest level and hopefully will trial for some major European clubs.
Karan: I will trial for the I-league and try to get a chance to play for my favourite club Mohun Bagan and take things further from there.