Lessons for Life: What an Arsenal fan taught me...
3.23K //
22 May 2014, 18:34 IST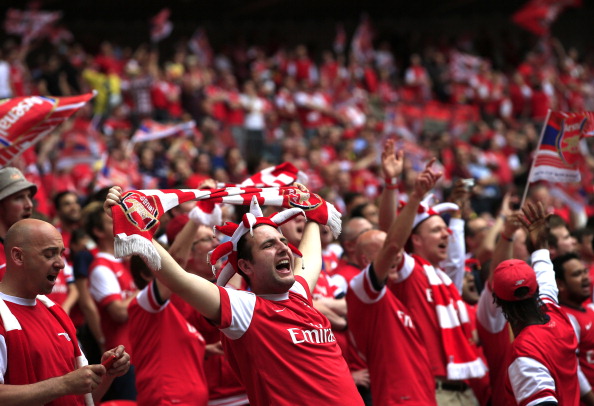 A few years ago, three of my college friends and I decided to hold an impromptu celebratory 'day' like the ones we tend to have in colleges. Since all of us follow football, it seemed only right to call it 'Jersey Day' with each one of us wearing the brightest jersey gems in our collection. The plan was to meet up for a movie on a Saturday – followed by, if possible – a late night match at one of the pubs screening our team's match that day.
We couldn't make it in time for the match though we did manage to watch the movie. But it was the pre-show and post-show histrionics involving the jerseys that stole the limelight more than the plot of the movie. Especially one jersey, a red and white Arsenal jersey, in particular.
There is no dearth of loyalty for Arsenal across the length and breadth of my city. I can't be sure of actual numbers but suffice to say, the numbers are staggering as far as the club's hard-core rooters are concerned. At the same time, contradicting such absolute fandom – even in the face of empty coffers of silverware – were those who seemed to waste no time breaking all associations of support to the club and the team, citing numerous justifications.
A few of these turncoats were responsible for coming up with the melodramatic display during our 'Jersey Day' revelry, mocking our friend and her decision to wear the Gunners' colours. It began quite harmlessly with smirks and raised eye-brows that manifested into sniggers and poorly quoted innuendos about the team's performance, right before the movie started.
We tried to ignore the jibes as we tried to remain unaffected. After all, we had also teased our friend mercilessly about her preferences. But where we, as friends knew where to respectfully draw the line, the way these guys – complete strangers – kept jabbing at our friend, really made our blood boil. So much so that all of us, were ready to jump into the fray to defend not just our friend, but also the team and its manager.
Our friend though kept her cool all the while. After a while, I realised that she had a rather indifferent look on her face. As if she was bored by the whole situation and it didn't merit any reaction from her end. Before I could ask her why she was so unresponsive to the whole outpourings of passion, it was time for the movie screening so we had to curtail our discussion and in my case, save the curiosity for later.
Thankfully, we didn't come across those guys after the movie ended and the first chance I got to speak about it; I ended up blurting the question out about how she could remain so calm about the whole issue.
As sporting fans, most of us start to take things for granted. Victories make our lives simpler as everything seems to shine so brightly. The more closely spaced the successive run of triumph, more satisfying our life gets. So much so that we ignore the cycle of nature and choose to tread without caution into the realms of tomorrows and days after. When reality hits, seldom are we prepared to face it – to take on the struggles as easily as we were ready to revel in the successes.
For my friend, it was quite simple to accept Arsenal's paucity of titles. Frustrating it was to see them languish fourth at the Premier League table, with correspondingly nondescript appearances at the Champions League thanks to the unkind nature of the draw. Vexing it was to see them not purchase and invest in star-studded players whereas other rival clubs had benches that looked to have more depth than the entire Arsenal squad put together.
Players – even fans – who left the club with the lure of titles dragging them away, may have changed their initial priorities, but there were still countless others who were keen to be a part of it. The players who were bought, or who were still fulfilling their contracts, were doing more than decent jobs for the club than some of the other costly players at other clubs whose future remained uncertain, susceptible to club owners' needs and managers' expectations.
Arsene Wenger had not lost his mojo. His repertoire was still vast and without him helming the team, Arsenal's consistent qualifications to the Champions League would have been impossible. Other clubs may have managers whose collection of silverware only went on accumulating, but as far as Wenger was concerned, there was no one who could challenge his tactical solidity or his ability to steady the ship when things looked to go awry.
My friend didn't believe Arsenal could win the EPL that year nor did she expect them to have another invincible season like 2003-04. But she did believe that it would have a trophy to show off at some definite point, rather than the heavily emphasised indefinite later prevalent all around. A trophy, won thanks to the efforts of these players whom the world had termed to be lacking and who would one day lead the resurgence of the Gunners, so to speak.
Honestly, all of us – even me – scoffed at her. We, Man Utd fans, who heavily outnumbered her laughed at her outright for thinking so imaginatively, when it was our team which was doing all the winning.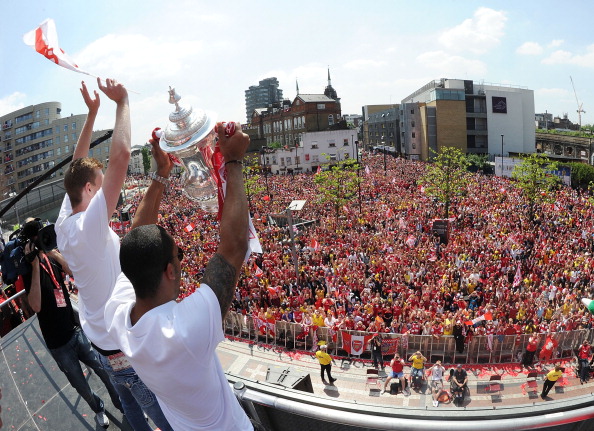 Yet now, all these years after this incident, my friend's words have come to be the most important lesson that I have learned as a fan. The fortunes of our respective clubs have been undeniably reversed. Man Utd were in doldrums as far as their performances were concerned this year, while Arsenal managed to pull off an amazing win at the FA Cup over Hull City, ending their trophy drought after almost nine years.
It was, and is, hard to take stock of the situation. Some of the losses were unprecedented, showing how easily the tables turned on us. The most significant decisions backfired even as some shallow-hearted folks found it easy to switch camps, to the other Manchester. Reparations have been carried out, enough to give us hope for a better and more productive new season.
But the bottom-line for me, despite these fixings, is that I brace myself for whatever has to come – good or bad – rather than keep expectations and be disappointed if they don't come to materialise, for whatever reason. Or, in case of fulfilled promises, exult with unchecked happiness; restarting the same circle, all over again.