Manchester United should win the Premier League next season: Mikael Silvestre
2.79K //
16 May 2015, 20:18 IST
With over 250 appearances for English Premier League outfit, Manchester United, defender Mikael Silvestre was a picture of consistency during Alex Fergusion's managerial tenure. His time at Old Trafford saw him secure five Premier League titles and one UEFA Champions League trophy, apart from several domestic honours.
In 2008, Silvestre made a controversial move to fellow title contenders Arsenal, before moving to Germany to ply his trade for German Bundesliga side, Werder Bremen.
At 37, the French defender was a part of the inaugural season of the Indian Super League (ISL), making 14 appearances for Chennaiyin FC. Apart from his success on the domestic front, Silvestre also won two FIFA Confederations' Cups with France.
In a recent event hosted by Chevrolet, which saw a slum area completely transform into a high-end football pitch, Silvestre spoke to Sportskeeda in an exclusive interview. He spoke about the future of Manchester United, Indian football and his career trajectory.
Q. How did your interest in football develop?
My family is a football crazy family. My father used to play football and my brother Frank Silvestre has played over 700 professional games, during his career. Apart from that, my family closely followed Ligue 1 and that's where my interested developed. It was only natural for me to start playing.
Q. Within a short span, you experienced the top of three different leagues (Ligue 1, Serie A, Premier League), how difficult was the transition?
Well, all three leagues were very different. Tactically, if I had to rank them, Italy was the most difficult to adapt because back in France it wasn't as tactical. When I moved to the Premier League, it wasn't as tactical, but you had to think more on your feet, apart from the physicality.
However, I was blessed to be a part of a United team that was the most tactically astute, especially since Steve Mcclaren joined.
Q. Sir Alex Ferguson or Arsene Wenger, who was the more tactically astute manager?
Sir Alex, for sure.
Q. What are your thoughts on the ISL?
The league has the potential to become one of the best in Asia. Indian footballers have shown the eagerness to learn, corporate have shown the willingness to invest and the football wave is high in India. I can see more India plying their trade abroad in the near future.
Q. It's not a hidden fact that Manchester United have failed to impress over the past few seasons. How do you think they can improve?
I think one area that is really being ignored is the defense. Yes, world class players are being brought in, but the defense really lacks quality. For United to have a chance next season, they need to upgrade their defence.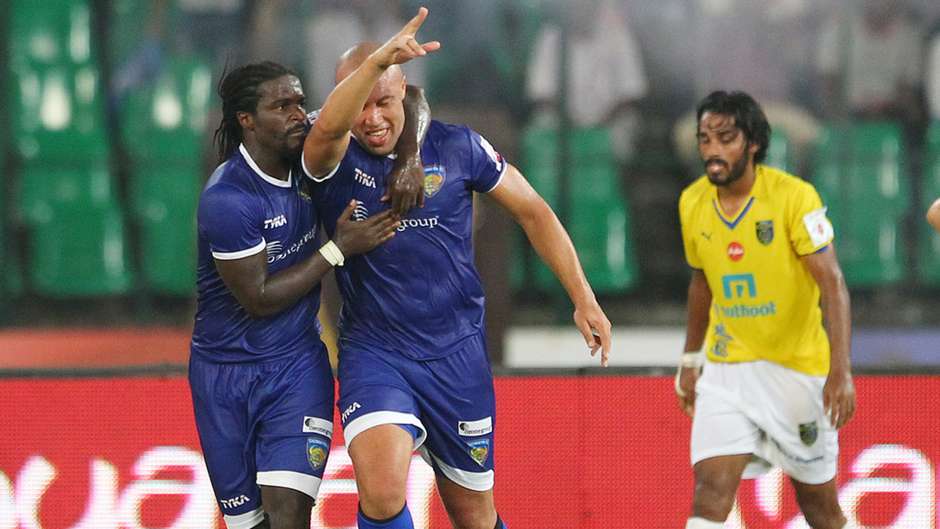 Q. English football fell to a new low this season as not even one team qualified for the UCL quarter-finals, your thoughts?
I think this season was a flash in the pan of sorts, don't think the trend will continue. It is most definitely not a true depiction of the capabilities of the league. Next season will be a different story.
Q. Who do you think are favourites for the Premier League title next season?
I think if Manchester United make certain tweaks in Central defence and midfield, they should secure the title next year.
Q. You had a brief stint in the MLS, could you tell us how the experience was?
Unfortunately, despite being exposed to some top players, the league has failed to capitalise on 'actual' growth. There is a lack of youth academies for MLS sides and the structure is missing. The teams also lack tactical knowledge, they have a long way to go.
Q. Who will the 2015 ISL season?
This is a difficult one, but all I can say is that every team wants it out of the hands of Atletico de Kolkata, especially after last season.
Q. Finally your thoughts on the Chevrolet pitch revitalisation event?
It is a great event and as footballers it is our duty to make the sport as accessible to people as possible. Most of us come from humble backgrounds and everyone should get a chance to prove themselves, wherever they are on the financial hierarchy.