Mohun Bagan, Mumbai FC share the points after 1-1 stalemate
802 //
25 Nov 2012, 23:11 IST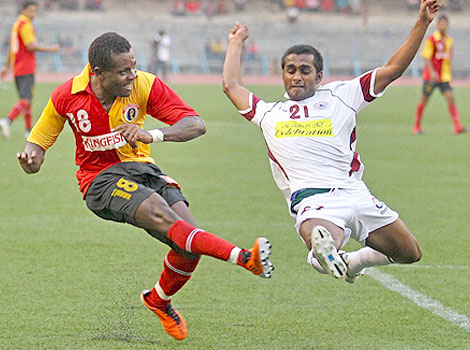 Kolkata giant Mohun Bagan failed to secure 3 points against the back benchers of I-League Mumbai FC. The match ended in a 1-1 stalemate in the seventh round encounter of I-League at Balewadi Sports Complex ground, Pune today. Odafa puts the visitors ahead from an excellent free-kick in the 21st minute of the game but veteran Abhishek Yadav scored the equalizer for the hosts in the 62nd minute of the game.
Mohun Bagan reached Pune today to play their first game under the supervision of newly recruited coach Karim Bencherifa and expectations were mounting among the Green & Maroon supporters. He has taken the baton from the hands of Mridul Banerjee, who guided the Mariners towards two convincing victories against Sporting Clube and Salgaocar at home and a goalless draw against ONGC in the away match. So it has to be said that Mridul seems to be better equipped to handle critical situations. Afterall, he took the responsibility when the side lost two of their starting matches in the I-League campaign.
With no midfield, no defence, no blocking, poor goalkeeping and wrong strategy by Karim Bencherifa,  Mohun Bagan are fortunate to have 1 point atleast from their away match today. Only Odafa remains as a glittering star in between all those failures.
Odafa scored the goal from an excellent free-kick at the 21st minute from the left side of the box.
Syed Rahim Nabi left the ground due to an injury in the very early moments of the game. After that it was very hard to find any co-ordination between defence, midfield and forward line. Due to the injury of two key defenders Eche and Mehrajuddin, Karim started Nirmal Chhetri and Aibar in deep defence, but during the match both of them looked like  living beings from a different planet. A complete mismatch in defence.
Veteran Yusif Yakubu was leading all the attacks for the hosts in the Mohun Bagan defence. The attacks were coming like a tide on the visitor's defence. The safe hands of Shilton Pal rescued visitors but one major fault by that same person allowed the hosts to equalize.
Abhishek Yadav followed a long ball and headed right into the Mohun Bagan net in the 62nd minute of the game.
Currently Mohun Bagan is in 5th position in the I-League table with 11 points from7 matches while Mumbai F.C is on  8th position with 7 points from 7 matches.