Mohun Bagan post convincing win against Sporting Clube
756 //
05 Nov 2012, 10:47 IST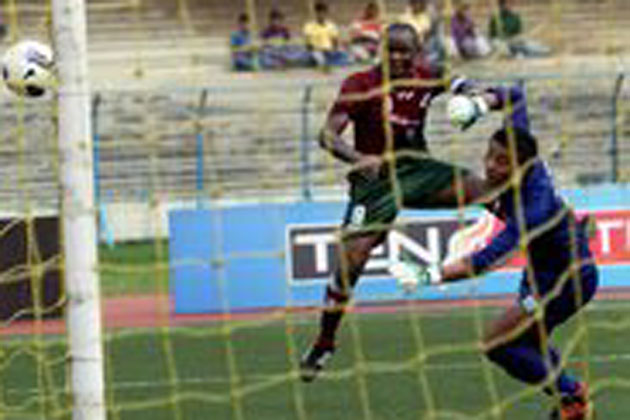 Mohun Bagan finally made their I-league intentions clear  by hammering Sporting Clube De Goa 3-1 at the Salt Lake stadium today in the fourth round clash of the I-League. Skipper Odafa Okeli scored a hat-trick for the home side(14', 42', 55') while Joseph Perea scored a controversial consolation goal for the visitors in the dying moments of the second half.
Thorughout the entire game the Green & Maroon brigade harried the defence of Sporting Clube and they should have won this match by more than a dozen goals, but failed to do so due to some glaring misses. In the context of the result it might have looked like a close match, but in reality the hosts should have won this match easily.
The Mariners started with a 4-5-1 formation with lone striker Odafa while the visitors started a with 4-4-2 formation with Dawson & Victorino Fernandez playing up front and Kalu Ogaba started as a schemer behind him.
The hosts started to go all out from the beginning, and were a free kick just outside the top box due to a handball by Adil Khan in the 14th minute of the game. Odafa bent the ball which was soon nestling in the net, beating Sporting keeper Ashok Singh. Dawson Fernandez was presented with the opportunity to equalize just two minutes after that goal, but he failed to beat host custodian Shilton Paul.
In the 42nd minute of the game the home side earned themselves another corner, Adil Khan of Sporting made a meal of his clearance and Odafa punished him to put the home side 2-0 ahead. After that goal, both teams had several chances, but due to some poor misses the score remained unchanged in the first half.
From the beginning of the second half, the visitors started to work towards restoring parity in the game. Joseph Perera had a good chance of scoring but he found the hands of Shilton only. Odafa completed his hat-trick following a through ball from Rahim Nabi in the 55th minute of the game, which almost sealed the game for Mohun Bagan's.
Odafa himself could have scored three more and it was over confidence which allowed Joseph Perera to score from a rebound, but question arose to whether the ball did cross the line.
With this win Mohun Bagan strongly bounced back up the I-League ladder with 6 points from 4 matches, and the title race looks to be a marathon so chances are wide open for the Mariners from here.