Nike Hypervenom Transform Released
4.53K //
24 May 2015, 17:25 IST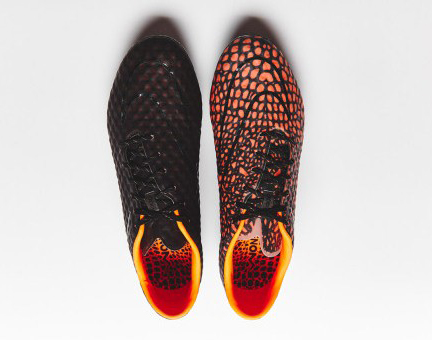 Is it black? Is it orange? Is it both? Just like 'the dress' which made quite an impact on social media recently, you may have trouble identifying the actual color of these Nike football boots (No illusion this time around though, it's pure science and technology).
Nike has released the Hypervenom Transform football boots on May 14, 2015. This is the last iteration of the Hypervenom Phantom cleats (farewell to Hypervenom Phantom. On the bright side, we'll get the Hyprvenom II soon). Hypervenom football boots are primarily designed for forwards and attacking midfielders. The latest colorway is as deceptive and as amazing as the players who wear the Hypervenom cleats.
It's the first time in the history that a football boot changes color. It uses a Heat-activated material which changes color with the change in temperature.
Regarding the styling, it features a black translucent upper with an orange colored inner area. The reflective metallic swoosh is seen on the upper. The studs boasts striking orange color over a black sole plate. It sure does look simple and plain at first glance but don't be mistaken, once on the pitch the heat-activated material turns orange (isn't it amazing?).
Simply put, just like you, even the boots participate in the game. The speed of your game will determine the speed at which the boot changes its color. This can be widely seen all around the boot. The areas having more ball contact will turn into striking orange and the other areas of the football cleat will have the black color.
Science class – The whole color change occurs because of a chemical reaction. The material is thermal activated and changes its color with an increase in temperature. The upper is made of two layers, as the top layer heats up, it reveals the color of the bottom layer. Best part, you can create all kinds of effects, designs and it is possible with all kinds of colors.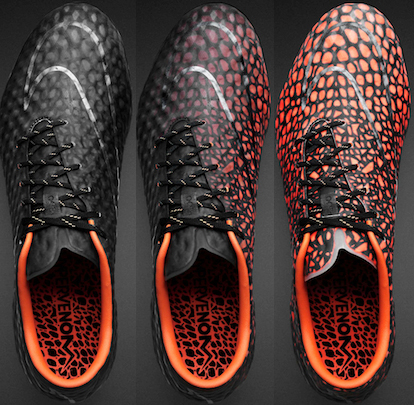 Coming back from the science class. The upper features NikeSkin technology which aids in a more natural touch. Textured Kanga-like upper provide optimal touch. ACC (All Conditions Control) will allow consistency in both dry and wet weather conditions. It also features a split-toe plate for an improved response. Sole features PEBAX Nylon plate for better support and flexibility. The natural motion plate provides 360° rotational traction. The conical studs improves rotational agility. We think that the same triangular graphic pattern will also be seen on the sole of the much aviated Hypervenom II.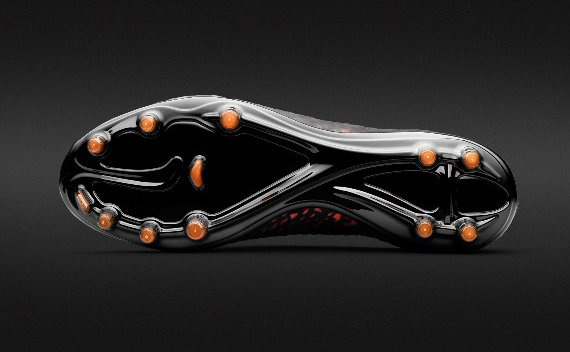 These football cleats are available in extremely limited quantities – only 560 pairs are available globally. These are priced at $300 i.e. around 20,000 INR. They are available on Nike website and a few select online retailers. These boots are sure to disappear if you're not quick to grab one of these.
Bottom-line: Nike Hypervenom Transform is the most spectacular football boot of 2015.