ONGC face an 'uphill task' against Dempo SC
620 //
15 Nov 2012, 14:38 IST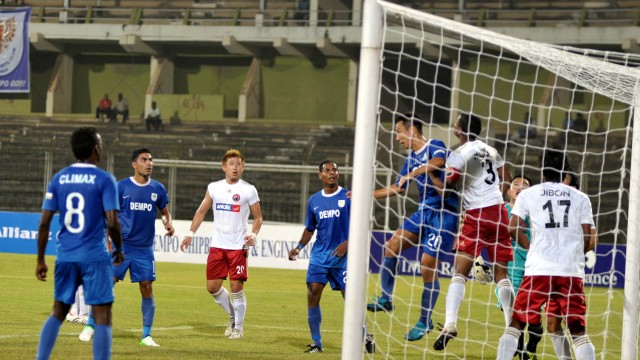 NEW DELHI: "Past is past. The result of the last match means nothing. It's a fresh match after all," ONGC Coach Subrata Bhattacharya said in one breath, a day before ONGC take on defending champions Dempo SC in the first match of the 6th round.
"Besides being defending champions, Dempo are the current league leaders. How can you ignore that? They have been the most consistent team in Indian Football in the last decade. There's so much quality in the side," he continues.
"We have had positive results at home when we forced strong contenders Prayag United and Mohun Bagan to split points with us. But as I said, it's past. But we are confident that we can do well," he adds.
Dempo SC Coach Armando Colaco, smiles. "ONGC are a fighting unit. They have had some good results at home. And do remember, despite the standings, the match starts goalless," he quips.
After 5 matches, Dempo stay at the top with 13 points while ONGC stay at the bottom with 2 points.
"We have to make our own calculations against Dempo. Against such a team, you can't go all out. It will be like committing suicide. We will be cautious and look out for that opportunity," Bhattacharya maintains. "A point against Dempo will be a bonus. Not every team will manage to get a point against them. We need to defend well. There isn't any room for any errors."
"There's no denying we face an uphill task," the ONGC coach opines.
"We have had a good time to focus and prepare for the match. Luckily enough, we are fresh unlike the last time where we had to play on consecutive days. We don't have anyone sitting out and none stays injured," Bhattacharya smiles at last.
The same isn't the case with the visitors. Defender par excellence Mahesh Gawli is out with an injury as is Koko Sakibu while "food poisoning" has forced Rohan Ricketts out.
The kick-off at the Ambedkar Stadium on Friday (November 16) is at 2.30.