Quinton Jacobs considers the four week stint at Manchester United as his best in career
1.90K //
07 Mar 2013, 11:18 IST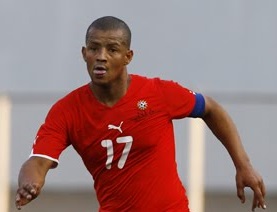 It was not an easy task for Quinton Jacobs to establish his place in the first team of Mohun Bagan in the I-League this season. He was registered as the fourth foreign footballer after Bagan, coming out of suspension in the I-League, resumed its second crucial innings with zero points in the league. Quinton Jacobs, the 34-year-old midfielder, had only the Kolkata league to prove his mettle. But after his explosive show against Pune FC in the IFA Shield match, he seems to have finally ensured a permanent berth in the Bagan squad.
Quinton, the Namibian midfielder, started his career as a winger. And he continued as a winger for around eight to 10 years. Today he cherishes his past when he stated, "My game standard must not have been so ordinary. Otherwise I could not have obtained the opportunity to get a call for selection trials at Manchester United."
Quinton had a four week selection trial at Manchester United in 1999. And today, Bagan's crafty midfielder remembers the most memorable moments of his football career, saying, "I had trained with all the legendary footballers of United for four continuous  weeks. I wanted to talk to the players like Beckham and Ryan Giggs though I did not get much opportunity. Still I found David Beckham for around five minutes after a day's training. I remember that the legendary midfielder had given me a suggestion that I should be thinking of changing my position on field whenever my speed would start going down." Quinton smiled and added, "You can say that I am the product of Beckham's suggestion. When my speed started reducing gradually, I took the decision that I would no more play as a winger. And then I shifted to midfield."
The Namibian midfielder also played a major part in guiding United Sikkim to the elite I-League from its qualifiers last season. The owner of the club, Indian football's icon, Bhaichung Bhutia had a lot of kind words for the Namibian midfielder after his superb show against Pune FC. Bhaichung lamented saying, "We could not continue with Quinton for the elite I-League this season. Our team would not have to struggle to survive from the relegation if we had Quinton this season. He is probably the best midfielder presently in the country."
Quinton wants to continue his career for a maximum of three more years. He wishes to be a coach in Namibia after that. "Once our country was a highly prosperous football playing nation in Africa. We were regular participants in the Africa Cup of Nations. But then the scenario changed. Our football standards dropped gradually. And my feeling is that the country lacked quality coaches. So my serious intention is be a quality coach so that I can help my country to uplift its football standards in near future," explained Quinton who has 60 international caps with his country.