Rafa Marquez questions Major League Soccer's "professionalism"
1.04K //
11 Jul 2013, 09:32 IST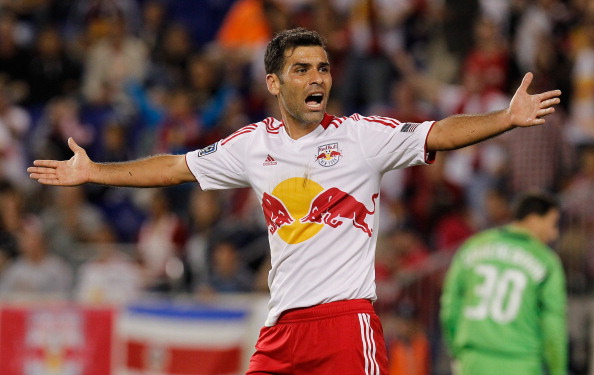 Today, former New York Red Bull and Mexican national team captain Rafa Marquez made some comments about Major League Soccer.
Rafa Marquez on Barcelona radio show: "I think that soccer in the United States still lacks a lot of professionalism in certain aspects."

— Tom Marshall (@mexicoworldcup) July 11, 2013
It's a bit hard to believe that Marquez, with his long history of unsportsmanlike behavior, would have the gall to call MLS unprofessional.
For those who don't know Rafa's history, let me offer up this trip down memory lane.
Here's Marquez's cleats up tackle on Chris Pontius in last year's MLS Playoffs. Fittingly, this tackle was the last play Marquez ever made in the league. Also fittingly, the New York Red Bulls had a man-advantage at the time and were tied 1-1 with D.C. United on aggregate. Marquez's stupid foul gave away the Red Bulls man-advantage and D.C. United eventually won the game with an 88th-minute goal courtesy of Nick DeLeon.
The tackle is at the 0:36 mark of the clip below.
Here's another class act from Marquez, throwing a ball at an L.A. Galaxy player after the final whistle of a 2011 MLS Playoff game. Then, after throwing the ball, Marquez throws a punch at an L.A. Galaxy player (which he doesn't connect) and then, in the ultimate act of manliness, throws himself to the ground feigning injury to try to avoid getting sent off—he didn't. The Red Bulls were forced to play the second leg without Marquez and lost.
The temper-tantrum by Marquez is at the 1:19 mark of the clip below.
And who could forget the 2002 World Cup match between the U.S. and Mexico when Marquez was ejected late in the match after head-butting Cobi Jones?
Marquez's head-butt of Jones is at the 2:12 mark of the clip below.
And finally, another gem from Marquez, again against the United States. In the 65th minute of the U.S.-Mexico World Cup qualifier on February 11, 2009, Marquez launched a kung-fu kick on Tim Howard and gets himself sent off.
Marquez's kick at Howard is at the 5:05 mark of the clip below.
In the future, Rafa, do yourself a favour and never call anyone unprofessional ever again. You calling anyone else unprofessional is too much irony to stomach.