Remembering India's Asian Cup 2011 campaign: The Class of Renedy Singh
5.10K //
14 Jan 2013, 17:43 IST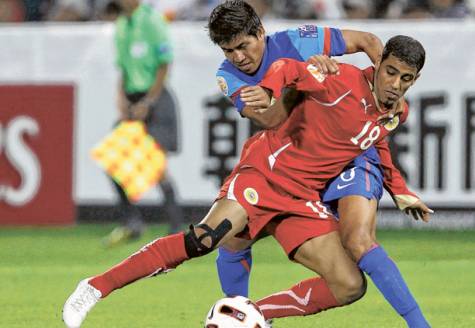 On this day two years ago, India took on Bahrain in their second Group C game of Asian Cup 2011. After being humbled 4-0 by the continent's top team, Australia, India were aiming for an even more respectable showing against Bahrain, who had narrowly missed out on 2006 and 2010 World Cup qualification.
India lost the game 5-2 but for a while had an outside chance of getting something from the match as at 4-2, Bahrain were down to ten and feeling the pressure against a much lower ranked side. One Indian player's performance stood out that day and that man was none other than India's very own dead-ball specialist, Renedy Singh.
The wide midfielder only came on in the second half against Australia and yet could have had an assist as his through ball had sent Sunil Chhetri clean through on goal, but the striker couldn't convert the chance.
Renedy started against Bahrain and produced quality every time he got a chance to cross or take a set-piece. It was from his freekick that India equalised through Gouramangi Singh. Renedy's perfect delivery was headed on by Abhishek Yadav for Gouramangi who slotted home from close range.
The Manipuri's best moment though came in the second half when his unstoppable left footed shot rattled the Bahrain bar with Sunil eventually heading in from two yards after Abhishek had also hit the woodwork from the initial rebound.
Those two moments of magic from Renedy were the two best moments of India's first Asian Cup campaign in 27 years and it was proof of this legendary player's class.
It's worth noting that at the Asian Cup, Renedy was already 33, so just wonder what he would have achieved had he received better facilities earlier in his career, as it was only under Bob Houghton that the national team had proper preparation ahead of international tournaments.
"The Asian Cup was the best thing that happened to me in my international football career. It was a great experience. It would have been nice (had the shot against Bahrain been a goal), but it goes in Sunil's (Chhetri) name so it isn't a problem for me. In the end it is a team game," Renedy had said after the tournament.
Indian football fans were hoping for a similar performance from Renedy and the rest of the team in the final group game against South Korea, but unfortunately the former India captain had to hobble off with an injury after just four minutes.
"Yes I desperately wanted to repeat my performance.  When I took the field, I had the zeal to do better than what I had done earlier. It's not every day that we play against a team like South Korea but as luck would have it, I got injured within the first five minutes of the game and I had to be substituted. It was a real difficult and sad time for me," a heartbroken Renedy was quoted saying.
Renedy didn't even spend 100 minutes on the pitch in Qatar 2011 and yet he was India's player of the tournament. We would be lucky to have a player anywhere close to his class and quality ever again.