Signed India jersey and football used in Nehru Cup under auction
943 //
29 Nov 2012, 23:16 IST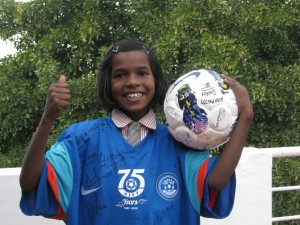 A jersey of the Indian national football team and a football that was used in Nehru Cup 2012, which India won, beating Cameroon 'B' on penalties in the final, is being auctioned online for a Bangalore-based charity named 'Toe to Heart'.
The jersey and the football have signatures of India national team players and head coach Wim Koevermans. The charity 'Toe to Heart' supports (semi) orphans, children from broken families and the very poor who live in an underprivileged neighbourhood in Bangalore.
A series of charity concerts have been lined up between January 5 and 11 in Bangalore with Koevermans expected to present the signed jersey (at the January 5 network event) and ball (at the January 6 family event) to the highest bidder.
Bids can be made online by visiting this link and the highest bid until now for both the jersey and the ball has been Rs. 15000.
Dutchman Thomas van Berckel, who is an entrepreneur and married to an Indian, has been living in Bangalore for the last eight years and is the founder of 'Toe to Heart' charity.
Speaking to Sportskeeda, he explained the reason behind having the India team jersey and the ball used in Nehru Cup for auction.
"I am Dutch and the Netherlands is rather good at football. I played myself also in the amateur league in the Netherlands and of course I know your national team coach (Wim Koevermans) also. I like to support the growth of football in India as it would give lots of opportunities and new dreams for children in India to become a professional football player.
"It is a bit disappointing to see that after winning the Nehru cup with rather good football there is still less attention for the Indian football team and football in India. This auction will also help raise awareness about the India team but most importantly will be beneficial for a number of underprivileged children," van Berckel told Sportskeeda.