Sporting, ONGC play out a thrilling draw
671 //
08 Dec 2012, 19:43 IST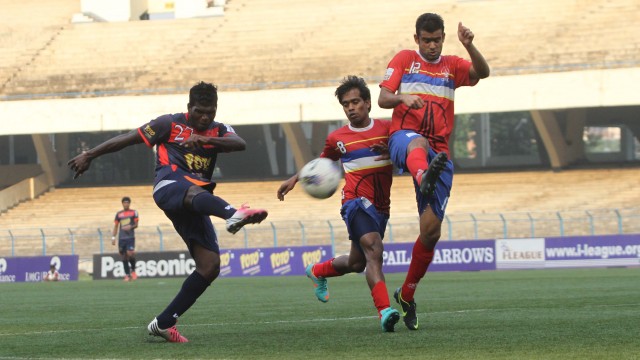 New Delhi - Sporting Clube de Goa came back from two goals down to hold hosts ONGC to a 2-2 draw in an I-League match at the Ambedkar Stadium here Saturday.
Two early goals from Kenistan (8th minute) and Eric (14th minute) put ONGC in the drivers seat. But the goals seemed to have an adverse effect on the the team as they sat back and tried to protect their lead.
Sporting, playing their first game under new Spanish coach Oscar Barreras, dominated possession but went goalless in the first half. The second half continued in the same vein with ONGC defending deep and they were finally made to pay for their tactics.
Sachin Gawas was deemed to have brought down Jovel Martins inside the box but the tackle seemed to take place just outside. Referee Pratap Singh pointed to the spot, amidst protests from the home team.
Kalu Ogba, who was the star for Sporting in the match, made no mistake, sending the goalkeeper in the wrong direction in the 65th minute.
The goal spurred on the visitors who strived hard for the equaliser and it came just five minutes later with Japanese forward Seiya Sugishita beating the goalie in an one on one situation.
Sporting players streamed forward in search if the winners while ONGC seemed content with a point.
Sporting midfield called all the shots in the final minutes of the game with ONGC defence retreating further back.
Substitute Obiora Andrue thought he had scored the winner 10 minutes from the end but his header was ruled offside.
ONGC with a point still languish at the bottom of the table tied on points with Salgaocar, who have played one game less. With eight points Sporting are in 10th place.