Syed Nayeemuddin – India's only 'socialist' coach
1.58K //
04 Nov 2012, 17:27 IST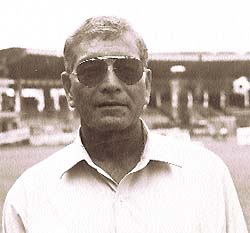 The year was 1997. I slowly adjusted myself in Delhi after I left Calcutta, famously known for its never-ending football madness. It was a tad difficult to find passionate fans in Delhi. But Durand Cups and DCM Trophys kicked off the right kind of atmosphere, which I always looked forward to.
That year's Durand Cup, however, was more glamorous due to the presence of stars like IM Vijayan, Chima Okorie, Baichung Bhutia, Carlton Chapman, Joe Paul Anchery, Basudev Mondol and others.
But Syed Nayeemuddin's presence overshadowed everyone.
Riding on the success of Nehru Cup (India finished fourth for the first time after the tournament started in 1982), the Dronacharya had come to Delhi to watch the players in action. Almost on all days, he would be spotted on the upper tier of the Stadium where he would put his focus on the players who would be later chosen for his SAFF Cup team.
Nayeem sahib is introverted and rarely expressed his emotions. But it was only after regular meetings with him at Old Delhi's Karims and occasionally at Shiraj in Calcutta, that Nayeem sahib opened up with me.
After knowing him for 15 years, I feel, he was a socialist coach who was misunderstood by players, club officials and even journalists.
Despite his stature as the national coach, the coach always stayed in a low-budgeted one-room accommodation in Hotel Bombay Orient near Karim's and enjoyed the Mughlai cuisines, because the national team budget used to be peanuts. In Calcutta, like Amal Dutta, he would be seen on his modest Lambretta scooter.
While he was the coach, Nayeem sahib used to spend his pocket money on his players. Whether you were a journalist fascinated by Indian football or a rookie footballer who had just made it to the national team, he ensured that everyone ate good, quality food. Newcomer Khalid Jamil (the current Mumbai FC coach) had to finish off a glass of milk before he could say khuda hafiz to his coach.
He would often explain why good food and nutrition is important for Indian players who mostly came from poor families.
"Footballer needs good diet. It's essential for a good physique," he would often remind me every time we met up at the eating joint. Interestingly, most of my initial interactions with him happened at this food joint and in Shiraj in Calcutta.
Often misunderstood by the fraternity, the veteran coach went off the radar shortly after his exit as India's national coach in 2006. He was at the crossroads, as even clubs didn't show any interest in him. It was a heartbreaking time for the veteran as he was chucked out just four months after piloting India to the SAFF Cup win in Pakistan in late 2005.
He was only coach who had talked about the need for proper accommodation and facilities for the players. No wonder then, Nayeem sahib was called as the 'expensive coach' by clubs and Indian Federation, and even earned their wrath for being too demanding. I still remember one East Bengal official frowning at him in a Daryaganj hotel during the 2000 Durand Cup when the coach had asked for Bisleri water for the players.
Much later, Subhash Bhowmick and other coaches followed his guidelines, and the clubs also understood that the players are after all assets. Had it not been due to his generosity, there wouldn't have been multi-gym and other facilities in the clubs. Surprisingly, just after Nayeem exited as national coach in March 2006, his successor Bob Houghton immediately recommended five-star accommodations to the Federation.
During these six years, Nayeem sahib led a lonely life in a city where he played, earned recognition and settled down. Last year, when I was in Calcutta, I called him and then met him at the renovated Shiraj in Calcutta.
Already past his prime and without a job, Nayeem sahib looked a bit dejected.
The Hyderabadi was in his trademark spotless white full-sleeve shirt and blue denim jeans.
Oh yes, he also sported a Ray Ban. And his renovated Lambretta, was carefully parked just outside the food joint.
But he isn't in the Indian football frame anymore and, that's what must be bothering him a lot these days.