TAL: Gameweek 7 Roundup - Horizons, Saints and Gremio all register wins
1.40K //
12 May 2015, 21:19 IST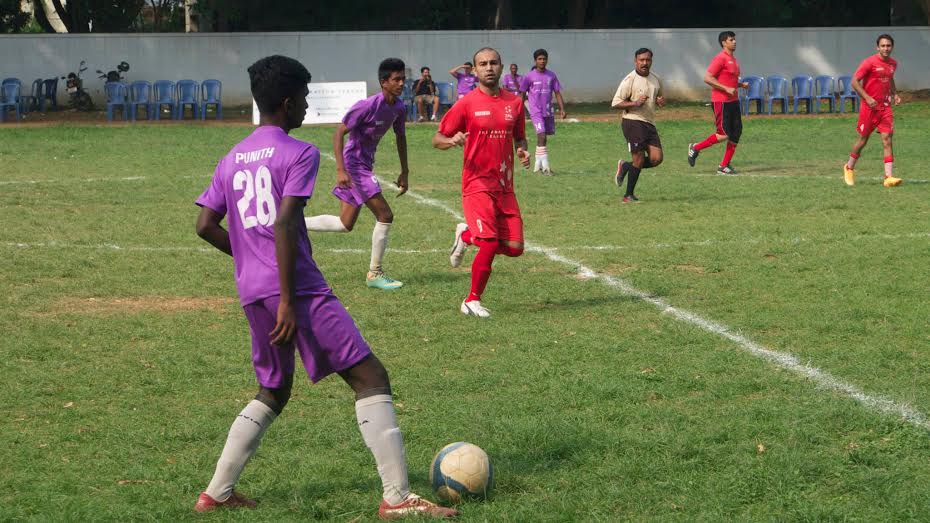 Gameweek 7 saw Horizons, Saints and Gremio pick up big victories to move away from the rest of the pack while FC Kougen Kikou upset Samba. Mercurial beat Project 7 to register the biggest upset of the day while Rare Dare FC also emerging victorious. The relegation battle is surely heating up with only 4 points separating the 8th and 12th placed teams.
Indian Ocean 2 – 3 Rare Dare FC
A five-goal thriller saw Rare Dare FC snatch a winner with literally the final play of the game to climb above their opposition in the standings. RDFC went up twice in the game only to be pegged back by Indian Ocean on both occasions, but there was no time for Indian Ocean to do that again as RDFC hung on in the dying seconds. Don and new signing Sharath played well in midfield for RDFC while Divij and Anirudh Valluri had good games for Indian Ocean.
Scorers: Indian Ocean (Prakash R (OG) 12'; Divij Palegar 21')
Rare Dare FC (Stiby Sunny 5'; Prakash R 14' ; Ajay R 60')
Horizons FC 4 – 0 Yataghan BFC
Defending champions, Horizons FC moved one step closer to retaining the title as they overcame Yataghan BFC in the second game of the day. The game was tightly contested and the score line is a poor reflection of the actual game as the 3 goals came only in the last 7 minutes of play. Yataghan set up defensively, looking to hit back on the counter attack which very nearly worked but the strength and persistence of Horizons saw the team through with a comfortable score line.
Scorers: Horizons FC ( Venkatesh Kishan 22' ; Satish Kumar 49'; Anup Raj 56' ; Jayanth Kumar 58')
Samba FC 0 – 1 FC Kougen Kikou
FC Kougen Kikou upset samba FC in what turned out to be a tight encounter. FC Kougen Kikou played with their usual calmness and moved the ball around well and managed to sneak in a goal courtesy a defensive mix up in Samba's box. Samba FC played well and tried to turn up the gears but a sound defensive set up for FCKK saw the latter preserve the lead for almost three quarters of the game and win the game.
Scorers: FC Kougen Kikou (Hirofumi K 17')
Gremio FC 4 – 2 Mavericks FC
Gremio FC had a resounding victory over Mavericks FC, who although did give Gremio a temporary scare when they cut down the two-goal lead Gremio had within minutes of the second half restart. Vignesh D scored his second hat trick of the season for Gremio FC to take over as 'Top Goalscorer' of the league with 10 goals in 5 games. Gremio started the game well and set the pace which Mavericks failed to keep up with and now find themselves deep in the relegation battle.
Scorers: Gremio FC (Vignesh Dakshinamurthi 19', 27',55'; Monish Yadav 52')
Mavericks FC (Thiru Murugan 32'; Sameer Joshi 50')
Mercurial FC 2 – 0 Project 7
Mercurial FC picked up their first win of the season when they ran out clear winners over Project 7. Mercurial FC has not been at its best this season but with four games to go, a win is surely a step in the right direction. Project 7 had a goal disallowed and might argue that things would have turned out differently had that not been the case, but all that matters in the end is the score line. Both teams are fighting relegation and the three points for Mercurial could yet prove pivotal.
Scorers: Mercurial FC (Dheeraj Bhagavan 7'; Pradyumna Sharma 33')
Saints FC 3 – 0 Flipkart FC
Saints FC kept up the pressure on league leaders Horizons FC as they took all three points from the game against Flipkart FC. Saints had a tough first half with Flipkart pressing high up the pitch to disrupt their possession-based game but changed tactics at half time to get an important three points. Flipkart was missing strike Pavan Powar whose pace might have added a different dimension to their set up but with a double game-week coming up next, the players need to regroup.
Scorers: Saints FC (Akshay Rawat 29'; Vikas Vasan 40'; Lohith Balesh 50')
Standings (After Gameweek 7)

| # | Name | GP | W | D | L | GF | GA | GD | PTS |
| --- | --- | --- | --- | --- | --- | --- | --- | --- | --- |
| 1 | Horizons FC | 7 | 7 | 0 | 0 | 36 | 1 | 35 | 21 |
| 2 | Saints FC | 7 | 6 | 0 | 1 | 28 | 4 | 24 | 18 |
| 3 | Gremio FC | 7 | 5 | 0 | 2 | 26 | 13 | 13 | 15 |
| 4 | Flipkart FC | 6 | 3 | 1 | 2 | 11 | 9 | 2 | 10 |
| 5 | Yataghan BFC | 7 | 3 | 1 | 3 | 14 | 14 | 0 | 10 |
| 6 | Samba FC | 7 | 3 | 1 | 3 | 10 | 14 | -4 | 10 |
| 7 | FC Kougen Kikou | 7 | 3 | 1 | 3 | 7 | 11 | -4 | 10 |
| 8 | Project 7 | 6 | 2 | 1 | 3 | 6 | 12 | -6 | 7 |
| 9 | Mavericks FC | 7 | 2 | 1 | 4 | 10 | 18 | -8 | 7 |
| 10 | Rare Dare FC | 7 | 2 | 0 | 5 | 9 | 26 | -17 | 6 |
| 11 | Indian Ocean | 7 | 1 | 0 | 6 | 12 | 20 | -8 | 3 |
| 12 | Mercurial FC | 7 | 1 | 0 | 6 | 5 | 31 | -26 | 3 |
TAL Season 2 - Top Goal scorers after Gameweek 7

| # | Name | Team | Matches | Goals |
| --- | --- | --- | --- | --- |
| 1 | Vignesh D | Gremio FC | 5 | 10 |
| 2 | Akshay Rawat | Saints FC | 7 | 9 |
| 3 | Monish Yadav | Gremio FC | 7 | 6 |
| 4 | Satish Kumar | Horizons FC | 6 | 5 |
| 5 | Kevin George | Yataghan BFC | 6 | 5 |
| 6 | Rahul Singh | Project 7 | 6 | 5 |
For more information about The Amateur League, you can follow us on www.Facebook.com/TheAmateurLeague and
https://www.youtube.com/TALBangalore