The I-League's never-ending stadium problems
734 //
20 Dec 2012, 00:20 IST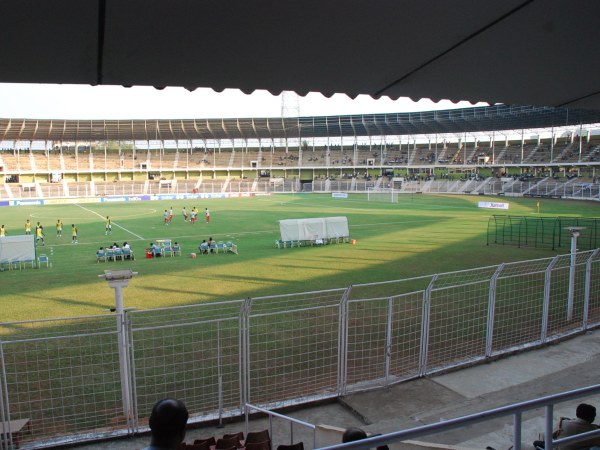 To be in the shoes of the All India Football Federation and
I-League
isn't easy these days, when even with proper scheduling and planning, the I-League is facing never-ending stadium problems, be it in Kolkata, Goa or
Mumbai
due to the simple fact that the AIFF nor the clubs own any of the stadiums, which are all under government control.
And the problems, be it in Kolkata, Goa or Mumbai are often different; but with the same effect that the AIFF and I-League have to often work out ways of keeping the league running with venues closed down for reconstruction, venues not ready or even other events possibly taking place.
In Kolkata, the Salt Lake Stadium has been on the wrong side of the news since the ill-fated derby on December 9. It is a proven fact that debris from floodlighting system being replaced currently, were used as missiles in the match. Now the work is nearing its end and therefore the stadium might have to be closed down for a few days, but with Barasat Stadium currently getting a new artificial turf, the only close-by option in Kolkata is Kalyani Stadium, which is about 90 minutes from the city.
Then there is Goa. The Nehru Stadium is set to be completely revamped ahead of the Lusofinia Games in November 2013 and it had been decided that the Tilak Maidan in Vasco would be used instead of the Nehru Stadium during the work, but delay in signing contracts have meant that there was a delay in the work to bring the Tilak Maidan up to I-League standard. With Goa having four I-League teams, there was a fear that for a few weeks, there could be no I-League action in the state with work at the Nehru Stadium set to kick-off.
But then came a surprise positive element, the refurbished Duler ground in Mapusa, which has a brand new artificial turf and a new main stand have been built. Plus, it is owned by the Goa Football Association. After a review yesterday by the GFA and the four I-League clubs, Duler ground will now be the saviour of Goan football as all agreed that some work needs to be done on the facilities, but otherwise the venue was perfect to host I-League games.
Meanwhile in Mumbai this weekend, the refurbished Cooperage ground was supposed to be opened, but delay in work and a court case have pushed things back with the ground likely to be opened only in early-January 2013.
It looks like when one venue problem is sorted, then another one just crops-up for the AIFF and I-League.