United Sikkim - The failings of Bhaichung Bhutia
1.04K //
12 Nov 2012, 21:57 IST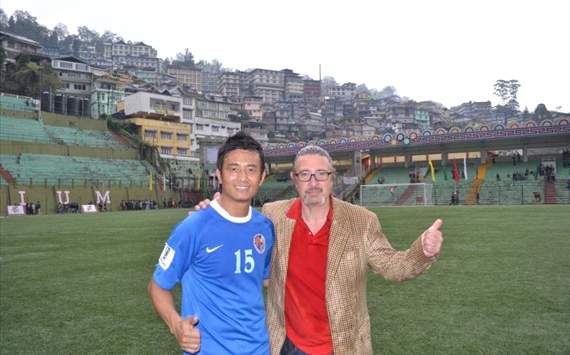 All the way, Bhaichung Bhutia just got it wrong. He may have been one of India's best footballers, but when it comes to managing his club, Sikkim United, Bhutia has completely failed to live up to expectations. Early this year, Renedy Singh, considered to be Bhutia's best pal in the football circle, left the club for an unknown destination in Norway. He didn't even inform Bhutia that he had quit. It was understood that the former India midfielder was unhappy over the recruitment of coach Philippe De Ridder. While speaking to Sportskeeda, the Manipuri felt that he was 'ditched' by Bhutia because he was never consulted before taking a call on Ridder.
Renedy was convinced then that Ridder wasn't the best choice for the club. The recent 10-1 drubbing against United SC proved that the Belgian coach was definitely not the right man to guide the team in their maiden I-League campaign this season.
Last Saturday in Calcutta, Prayag United shredded the new boys of the country's flagship tournament, United Sikkim, with the second biggest margin of victory in the history of the I-League/NFL after Dempo's 14-0 demolition of Air India last season.
Ridder, who had coached East Bengal in 2005, was given a free hand by Bhutia to pick his own team during the season. But that didn't help much either, as he lost the trust of his players later due to his authoritative way of functioning.
Running the daily affairs of a football club isn't easy. Finance continues to be a big issue for any club, and for a new club like United Sikkim, the going always got tougher. Barring East Bengal, Mohun Bagan (both these clubs are supported by United Breweries), Dempo and Salgaocar (both are run by their own companies), most other clubs don't have a sound, financial backing. Hence, the Sikkim club failed to recruit any big names.
But at the end of it, I don't understand why there has to be a foreign coach for a team which has just been launched. Bhutia, as a player, had a tremendous liking for foreign coaches. It was understood that sooner or later, he would definitely sign a foreign coach. After showing Stanley Rozario the exit door, the former India captain quickly gave his consent for Ridder. It was a decision which wasn't appreciated by his one-time close friend, Renedy. But who could've challenged Bhutia's authority?
I feel that Bhutia, who was groomed by SAI coaches during his formative years as a player, should have looked for a talented Indian coach.
Bhutia gets the credit for putting the tiny Himalayan state on the Indian football map. But managing the club is a challenging job, since not many players have been successful administrators after retiring from the game. Michel Platini is one exception. Bhutia may have the zeal and excitement but his team of officials lack a vision.