Uphill tasks lying ahead in front of the Prayag reserve bench
678 //
08 Nov 2012, 18:59 IST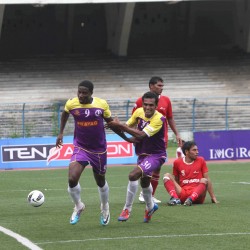 It must not be the desired ending Prayag's former coach Sanjoy Sen wanted. He had a good chance to prove himself as a tragic hero in front the club officials. But it seems that he was not lucky enough to get that title. Yesterday after losing points against one of the small clubs in the CFL Premier League, Kalighat MS, Coach Sanjoy Sen resigned from his post.
Like the two other I-league teams from Kolkata, East Bengal and Mohun Bagan, Prayag United have also used the Kolkata Premier League as a perfect stage to examine their reserve bench players. While reserve bench players from East Bengal and Mohun Bagan were quite capable of helping their team to win, after seeing the performance of the Prayag's reserve bench players one has to say that uphill tasks are lying ahead in front of the Prayag players.
Though big players like Ranti Martins, Carlos Hernandez and Subrata Paul were not in the team yesterday but like East Bengal and Mohun Bagan, Prayag's reserve bench is quite strong enough to beat a team like Kalighat. But Lalkamal Bhowmik, Shankar Oraon and James Singh could not get enough chances to score.
Meanwhile Sanjoy Sen tried his best to get full points from the match but it seems that this draw is going to make an effect on the team. After yesterday's match Sanjoy Sen told, "…these matches are quite meaningless…the way IFA have made the fixtures, this point will not make an impact in future".