Was Mohun Bagan right to release Jose Barreto last season?
1.31K //
03 Mar 2013, 10:50 IST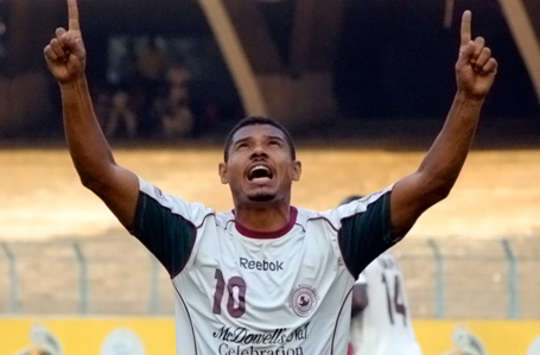 It was a winter evening. I can only remember I was in school at that time though I cannot remember in which class I was then. While returning home in the evening, glimpses of Mohun Bagan flags and the roar of Mohun Bagan supporters attracted me. As a result I stopped in front of a traffic signal to watch those fans and their 'madness'. Suddenly a passer-by screamed 'Barrettoo…Barretttooo….'
Jose Ramirez Barreto is a 36-year-old Brazilian striker. Is this description enough to describe this great player? Surely not. What else can I say about this man? I don't think I am mature enough to talk about this legendary footballer, arguably the greatest foreign player to have played in India, who enriched Indian football with his brilliance, class and leadership. While the cricket world labels Sachin as the 'God of Cricket', similarly for the Mohun Bagan fans, this Brazilian was much more than just a 'God'. I have heard some fans to call him 'a saviour'. It is quite surprising how a foreigner came into this country and earned the respect of numerous fans.
'Sheet Grishma Borsha…Barreto i Bhorsa (Winter, summer or rain…Barreto is the saviour)' - this phrase is quite appropriate to describe the craziness of Mohun Bagan fans and their faith in him. In his 11 year journey in the National Club of India, Barreto gave this club everything he had. On the field, he always tried to give more than 100%. Off the field, he is a loyal soldier who turned down very good offers in his career because of the love he had for Mohun Bagan. Even after joining a second division club in the last season, his heart still beats for the Mariners. That's why he was sad when he heard that Mohun Bagan will be banned from I-League for 2 more seasons. Apart from winning the fans' hearts, he has also won a lot of trophies for the Mariners and holds some records, which include scoring 200 goals for Mohun Bagan. In 2010, he achieved this unique feat and he is the only football player in the history of Indian football to achieve this milestone with one club.
Though he lost his glorious form in the last couple of seasons, his magical touches are still treat to watch. When he joined Bhowanipur Club in the start of this season, he made his intentions clear about taking this team to the highest level of Indian football – the I-league. Though it is quite difficult for him to lift this team on his own, this club he has already created some magical moments in his first year there, which included beating his former side Mohun Bagan – a historic achievement for the club. It's true that the Baretto may not be able to produce the same magic he did with Mohun Bagan for almost a decade, but he still holds a special place in the hearts of fans and will continue to do so for a long time.