We are a good team, not giant killers – ONGC coach Subrata Bhattacharya
973 //
16 Nov 2012, 22:17 IST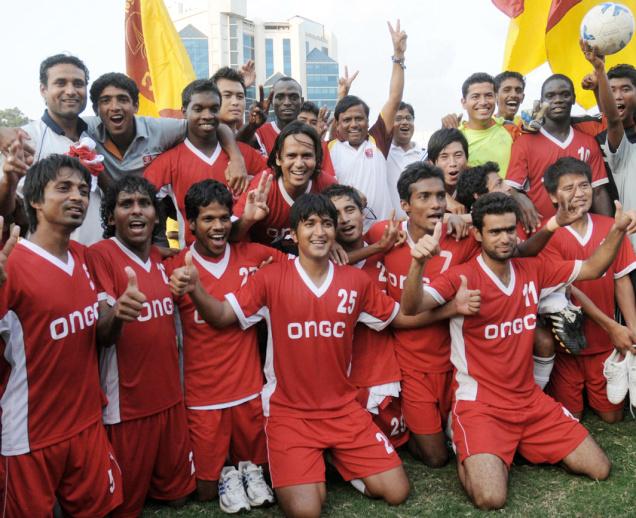 Five points in three games against the likes of Prayag United, Mohun Bagan and Dempo is a good return for any team, and for a side fighting to stay up in the I-League like ONGC, the achievement looks even better.
Their 3-1 win over defending champions Dempo on Friday not only lifted them out of the relegation zone and into the top ten but also ended the Goan club's unbeaten start to the season.
The mastermind behind their success, Subrata Bhattacharya, however refuses to accept the tag of 'giant killers' and reminding of their Federation Cup performance, he hailed the overall quality of his team.
"We are a good team, not giant killers. These are just tags given by the media. We just look to perform on the pitch and considering the players I have, the result is not entirely surprising. We did well in the Federation Cup and except the 0-5 defeat to Churchill, I think every game we could have got something but somehow the results weren't coming.
"The draws against Prayag and Mohun Bagan are proof of the fact that we had been performing. Hopefully this win over Dempo will kickstart our campaign and we will get results consistently now," Bhattacharya told Sportskeeda.
As soon as Bhattacharya talks about consistency, the fact that the five points over the three big sides are ONGC's only points so far raises the question whether their players lack motivation against the so-called smaller teams.
Refuting the claim, Bhattacharya said, "No I don't think my players get complacent. It's just that certain things were not going our way. I think staying in Delhi and playing games here on the trot has helped us because we have got used to the climate and haven't been doing much travelling."
ONGC have been playing at New Delhi's Ambedkar Stadium as Mumbai's Cooperage Stadium isn't ready yet and Bhattacharya, who has an AFC A coaching license, admitted that ideally he would love to continue playing their home matches in the capital but pointed out that only his club management and the AIFF can take that decision.
Under Bhattacharya, ONGC had ended East Bengal's unbeaten start in I-League 2010-11 with a 1-0 win in Kolhapur and the 48-year-old still rates that victory as his best.
"Today we got a massive result but I still rate the win over East Bengal as my best win because they were unbeaten after 13 games and were looking unstoppable so to beat them was a great achievement," he said.
ONGC's next assignment is an away match against East Bengal and Bhattacharya opined that it will be a much more difficult game than the one in the Federation Cup where his team lost 1-2 after going down to ten men.
"We can't get carried away and have to keep our feet on the ground. East Bengal are much more prepared now and looking better than they were during the Federation Cup. We will give everything but it is going to be a daunting task (of getting anything from the game)," he said.