Free Fire was the most downloaded game in the year 2020, with over 266 million downloads worldwide. Since its inception, the game has been blowing up charts in terms of download numbers, revenues and user base. The game also won many accolades, including the prestigious Mobile Game of the Year Award by Esports Awards.
The most popular Free Fire athlete and content creator in the world, Bruno "Nobru" Goes, along with Free Fire creator "Cerol," have formed an organization called "Fluxo Esports." Fluxo Esports will compete in the Liga Brasileira de Free Fire 2021 (LBFF) Series A after buying Santos Esports' spot.
The announcement came through @fluxogg Instagram on January 18, where they posted:
"You already know us and know about our trajectory!
Today we start a new journey with our own hands. We fought and came this far. Fluxo is coming, family."
Free Fire star Nobru
Bruno 'Nobru' Goes is a Brazillian Free Fire player with over 11.9 million subscribers on Youtube and over 700 million total views. He has more than 8.9 followers on Instagram and was the most popular mobile game streamer on Twitch in 2020, with over 24.5 million hours watched on his stream. He is followed by 2.7 million people on Twitch.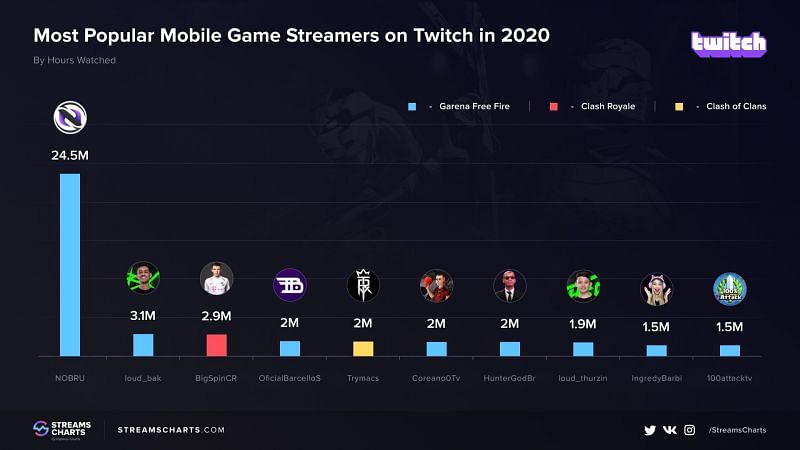 He was part of the Free Fire World Series 2019 champion team Corinthians and was also awarded the MVP title. In 2020, the team couldn't qualify for the Free Fire Continental Series Finals 2020 Americas.
Nobru was also nominated for the best Esports Mobile Player of the Year Award along with Mortal, Luxxy, and Zuxxy. The award was ultimately won by Zuxxy.
Free Fire is highly popular in the South American region. The recently concluded Free Fire Continental Series Americas saw more than 800k average viewers and peaked around the 1.7 million viewers mark. Spanish was the most popular broadcast language during the regional finals, gathering nearly 890k peak viewers. The Portuguese broadcast peaked at around the 845k viewer's mark.
Check out the latest Free Fire MAX redeem codes here.