EA Sports is on a rampage. Ever since the game developers began releasing periodic information on their upcoming franchise FIFA 18, fans around the world have been begging for more. Ever the opportunists, EA has given football and gaming fans worldwide just that and much more.
Following the landmark reveal by the official EA website that player ratings had been announced, the popular gaming series known as FIFA has begun listing out the top 100 players according to their respective ratings in September's release. The game is set to make a grand entrance into our lives on 29th of this month and the creators of the game want to utilise every ounce of the time they have left. After unveiling the players rated 100 to 81, the next step has also been realised. 80 to 61 ranked players make the next entry in this vast list of talented footballers and going by the initial reaction, fans can't seem to get enough. Without further ado, here are all the players who make up 80-61 in FIFA 18:
All images have been sourced from EA Sports' official website.
#80 Jan Vertonghen-85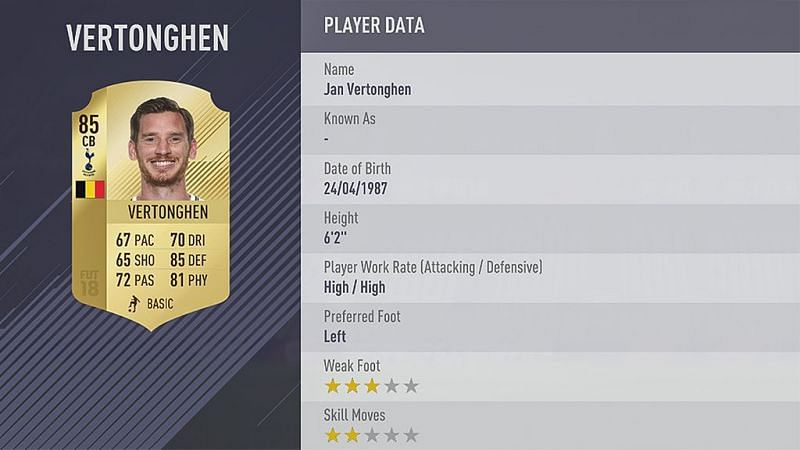 The Spurs defender is known to be one of the most versatile backline players and his FIFA rating justifies just that. Tottenham fans will hope he can play an entire season this time around.
#79 Angel Di Maria-85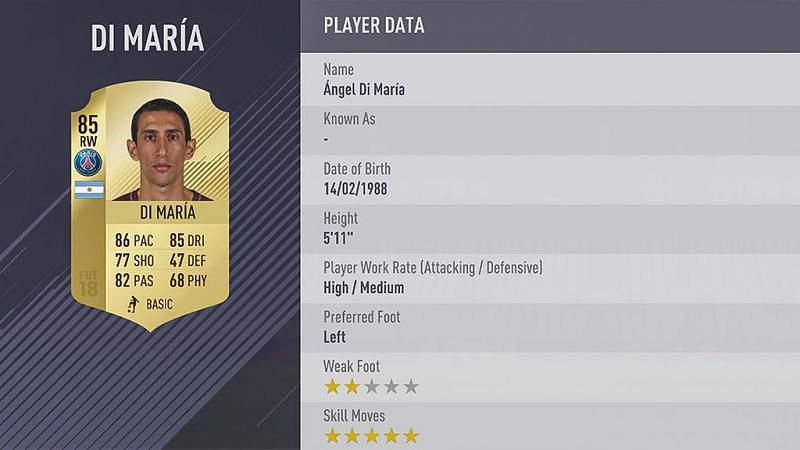 Di Maria's proficiency in front of goal may have reduced in recent times and that has shown in his rating which has suffered a touch. PSG's sudden influx of world-class talent could push this Argentine out of the side.
#78 Filipe Luis-85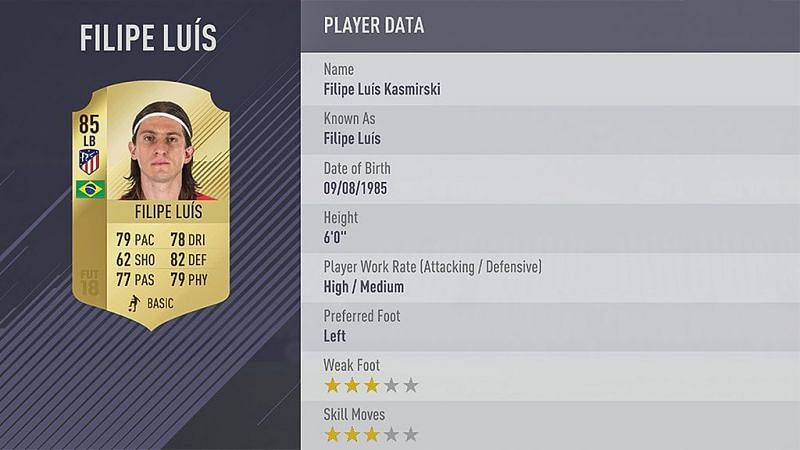 Atletico Madrid and Felipe Luis' relationship continues to grow and blossom and the Brazilian brings his talent to FIFA 18 with a healthy rating. Expect that number to be showcased this season in Spain.
#77 Lorenzo Insigne-85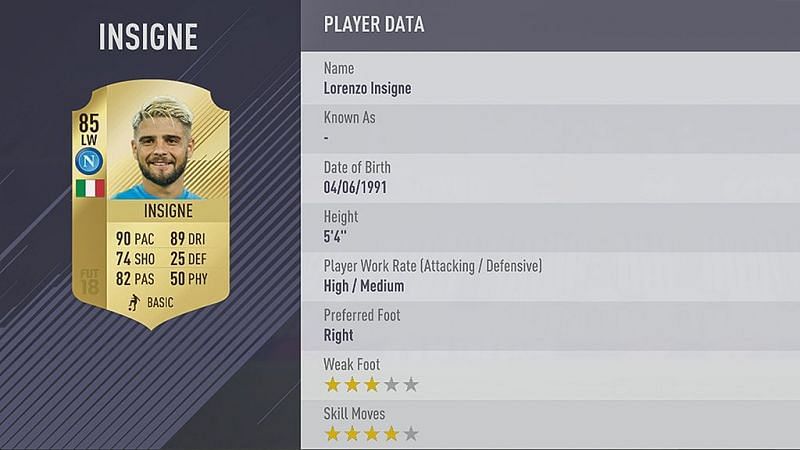 One of the new prospects in town, Insigne has proved himself at Napoli and continues to remain a potent threat at the top for his club. His FIFA 18 rating proves just that and it could be a matter of time before the big guns of England come calling for his services.
#76 Cesar Azpilicueta-85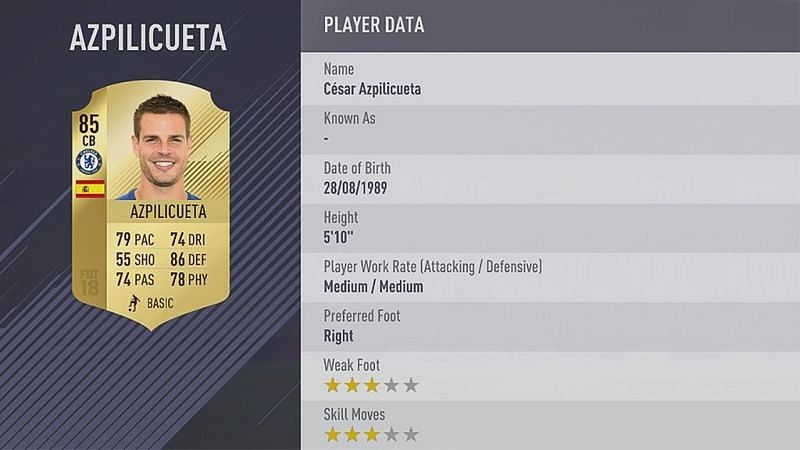 After enduring a highly successful run with Chelsea, Azpilicueta does not seem to be slowing down anytime soon. His stock remains high despite all the new signings by Antonio Conte and if his FIFA 18 rating is anything to go by, he is definitely here to stay.
#75 Miralem Pjanic-85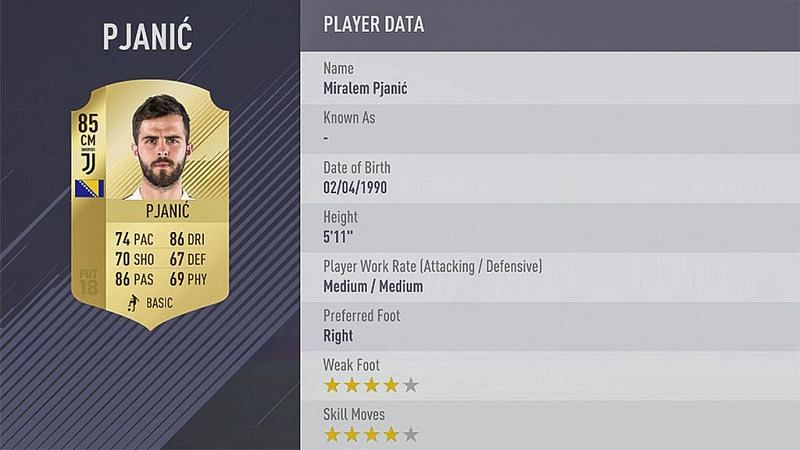 Classy free kicks and a good temperament aren't the only things that Pjanic has going for him. Juventus' midfield maestro for a reason, his FIFA 18 rating finally does his talent justice. Here's hoping he lights up Turin yet again this season.
#74 Jordi Alba-85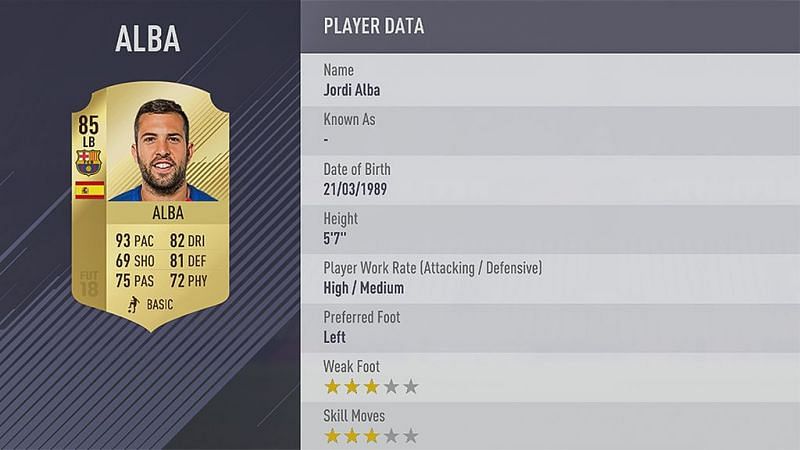 Few Barcelona players have the guile and gumption to run the line like Jordi Alba does. His everlasting batteries and eagerness to serve his club have not gone unnoticed and despite the influx of new talent at the Camp Nou, Alba's rating remains top notch. Could this be the rekindling of a lost fire?
#73 Keylor Navas-85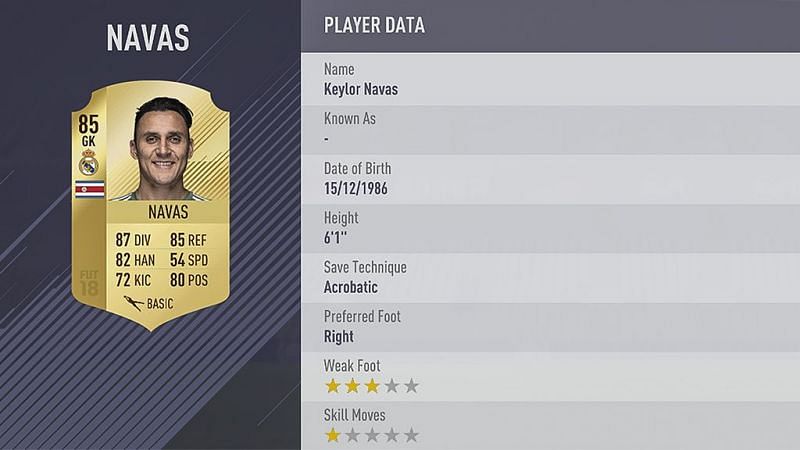 Real Madrid's goalkeeping situation finally seems to have calmed itself down. The need for David De Gea's services has diminished ever since one Keylor Navas decided to take matters into his own hands. Superior handling and incredible shot stopping ability are the main reasons that Navas deserves his decent FIFA 18 rating.
#72 Blaise Matuidi-85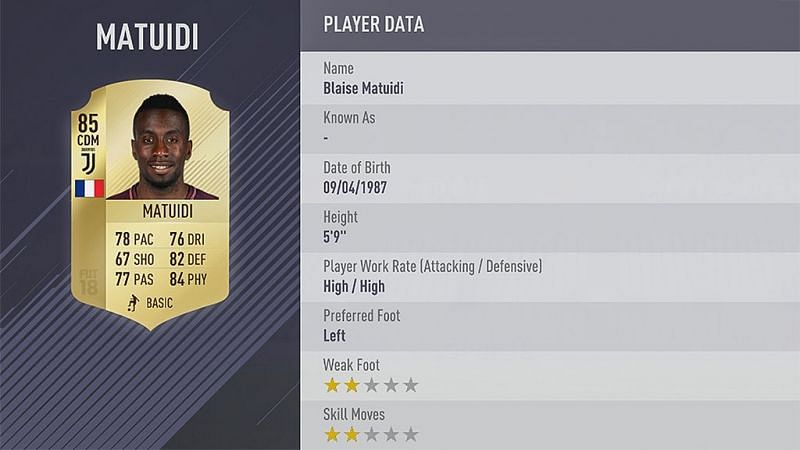 Rightly described as a "fierce and strong tackler", Matuidi's strength in central midfield warrants Juventus' never-ending desire to sign the Frenchman. A successful spell at PSG earned him all the plaudits and his new chapter in Italy promises big things. FIFA 18 has him in the top 75, and one can see just why.
#71 Casemiro-85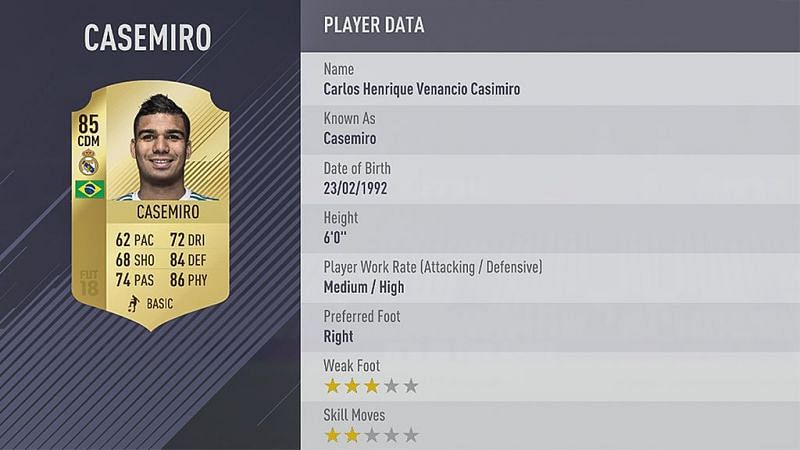 Real Madrid's midfield has seen some impressive talent as of late and stepping up to the plate in that position is Casemiro. His recent goals from a variety of different points on the pitch prove his importance to the team and it's hard to keep him out of the game. FIFA 18 has recognised that fact and as a result, he finds himself part of this illustrious list.
#70 Alexandre Lacazette-85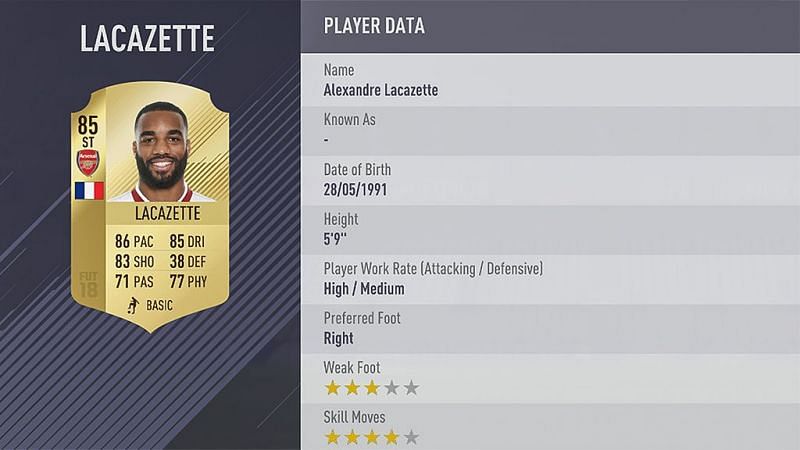 This particular Frenchman made all the headlines at Lyon and for good reason. His dedication and sheer skill drove the team to relative success and it was just a matter of time before England came calling. Arsene Wenger signed him and it's hard to argue with the Arsenal manager. FIFA 18 clearly agrees and Lacazette's form in the league could back that up.
#69 Miranda-86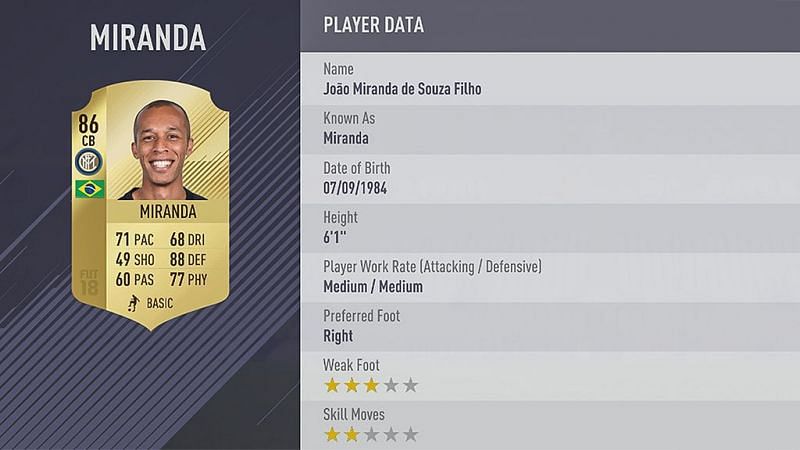 Inter Milan's Miranda makes a surprising entry on this list at number 69. The former Atletico defender has proved his mettle among the very best in Europe and he continues to highlight his importance to the team every time he steps on the pitch. A deserved entrant on this list and FIFA 18 concurs.
#68 Pepe-86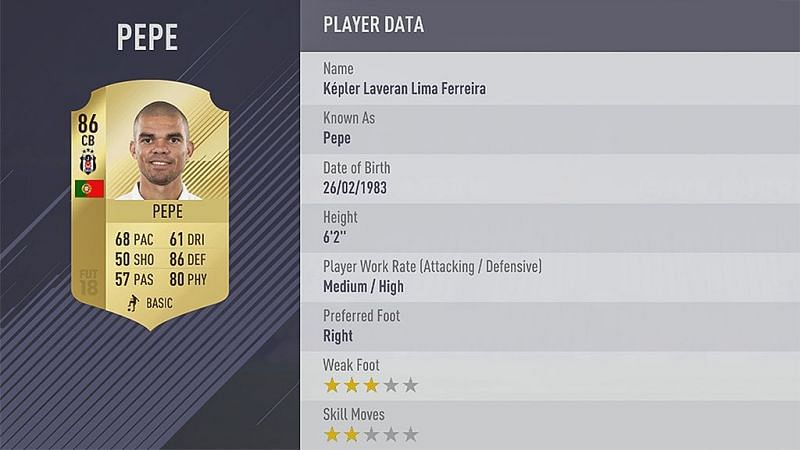 Besiktas sure have landed a top player in Portuguese center back Pepe. His former employers Real Madrid will agree with that as does FIFA 18, proving just how vital the player is and how intimidating he can be at his best. Turkish clubs, beware.
#67 David Alaba-86
Bayern fans will tell you just how important a player David Alaba is. The Austrian is making waves around Europe and his consistency is mind boggling. FIFA 18 ratings list him among the very best and for good reason. There is plenty left in this player's tank.
#66 Petr Cech-86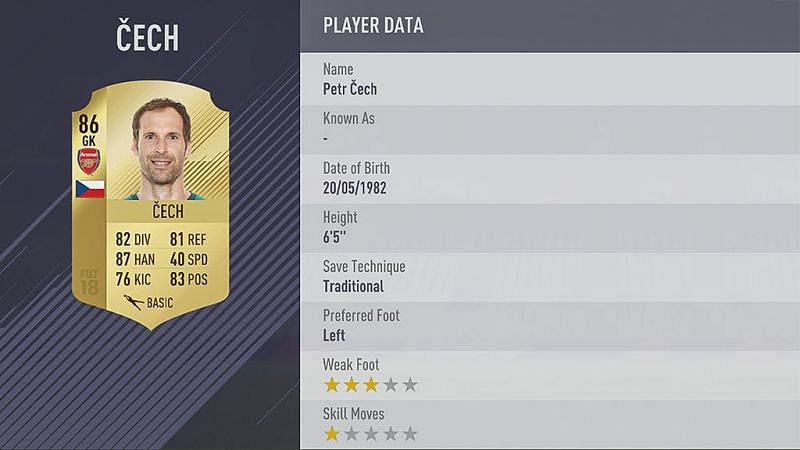 If you're looking for players describing the word dependable, Cech is your man. A loyal servant and a true team player, Cech's saves have saved his team's blushes more often than not. Arsenal and Chelsea can vouch for that. And FIFA 18 now too.
#65 Javi Martinez-86
At his best, Javi Martinez can stop any forward in the world. And Bayern fans will hope that he can stay fit because this particular Spaniard has all the tools to make it big in Europe. FIFA 18's rating system has their belief in him for a reason, so should you.
#64 Marco Reus-86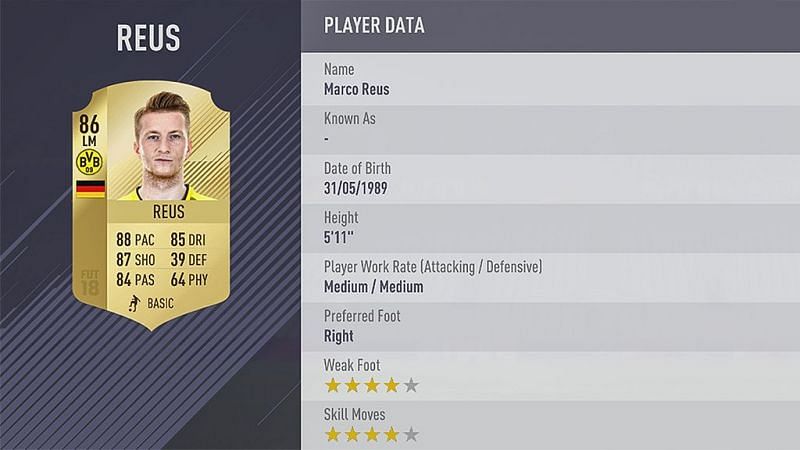 The cover of FIFA 17 finds himself down in 64th spot. That may be a dampener of spirits but Reus' talent is unmatched. Dortmund fans just need him to stay fit and prove his talent on the pitch. Perhaps this could be the year for the mercurial one known as Marco Reus.
#63 Diego Costa-86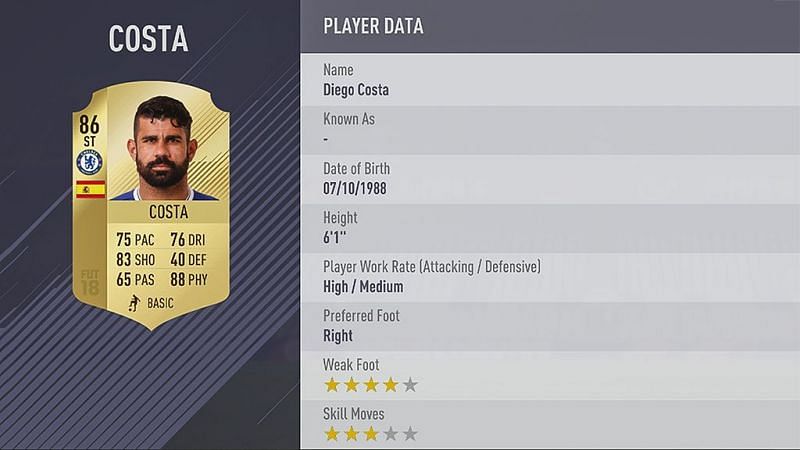 The saga surrounding Diego Costa may never end but what cannot be doubted is his contribution to Chelsea's title-winning campaign last season. While his future remains unsure, FIFA 18 rates him highly as his finishing and physicality remain among the top brass in the game and in reality.
#62 Sokratis-86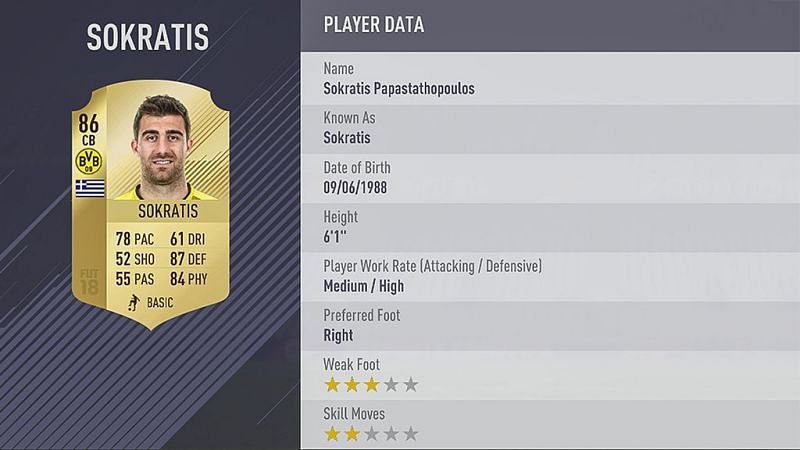 Another defender joins this list as Sokratis makes his way into the cream of FIFA 18. Dortmund's saviour on a regular basis, this Greek God can play his way out as well as scare the opposition out of his own half. A deserved entrant on this list and one with a definite point to prove.
#61 Franck Ribery-86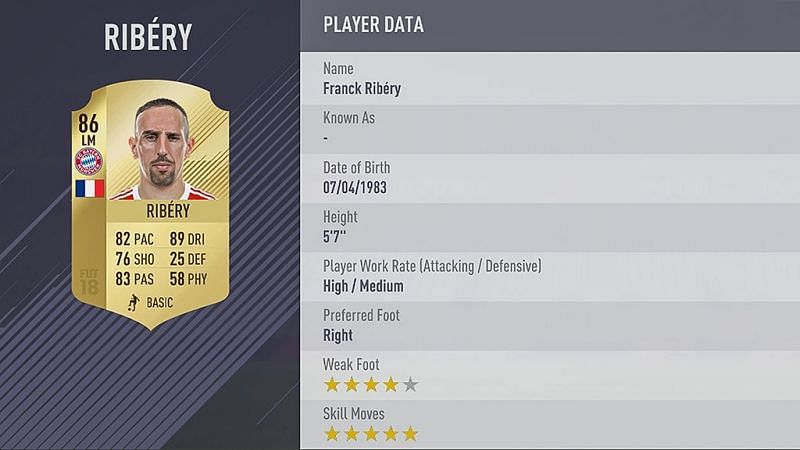 And who else to end this list but Franck Ribery. Injury may have shortened his career greatly, but there is no doubt that Ribery will go down as one of the best ever in the game. His FIFA 18 rating may have reduced with age but his passion remains high as ever, proving just how much Bayern Munich still need his presence at the Allianz Arena.
Edited by Abhijit Bharali