The Sports Committee, SRCC invites you to the Festival Of Youth Sport 2015, a four day annual ride from February 3 to February 6, 2015. The flagship event FOYS is an amalgamation of more than 10 far reaching, non-traditional and yet popular sports events.
It comes down to all this as the fun starts here at 1:00 P.M.on 3rd February in The Sports Complex with the following attractions:
Gautam Gambhir: Mr. Never Say Never, the Incumbent IPL Defending Champion, A man of few words and one of the best openers! Inaugurating our fest. What more do you want?
Shraey Khanna: MJ5, Shraey Khanna, Shraey Khanna, MJ5. Do I need to say more?
Surjeet Sirji: Called Sirji by fans and fanatics alive, Just Dance Runner Up, sure to leave you amazed!
Misba: Western dance society of Sri Guru Gobind Singh College of Commerce, number 1 in D.U, will be enthralling us with their dance. Better be there than regret it
Vivaan: Vivaan, a bilingual band catering to both the English and Hindi speaking audience will be amongst us, making the day much more musical with a scintillating band performance.
Matches:- We will start with our inaugural game to be played by Mr. Gautam Gambhir followed by matches of university colleges in various sports."
---
Gaming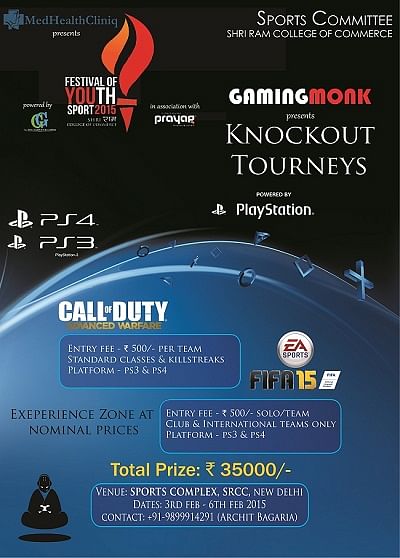 Sports Committee in association with GamingMonk presents Knockout Tourneys (powered by PlayStation) at the Festival of Youth Sport'15 at SRCC Sports Complex.
The Tournament will be a Knockout Cup tournament. Knockouts will determine the winner at each stage and reentries will be allowed for players to have a second chance at their opponent. The tournament will feature two of the most popular games i.e. FIFA 15 and Call of Duty Advanced Warfare. It's a 4 day event and finalists of each day will be chosen to play at the last day for the grand prize.
---
Mini-Marathon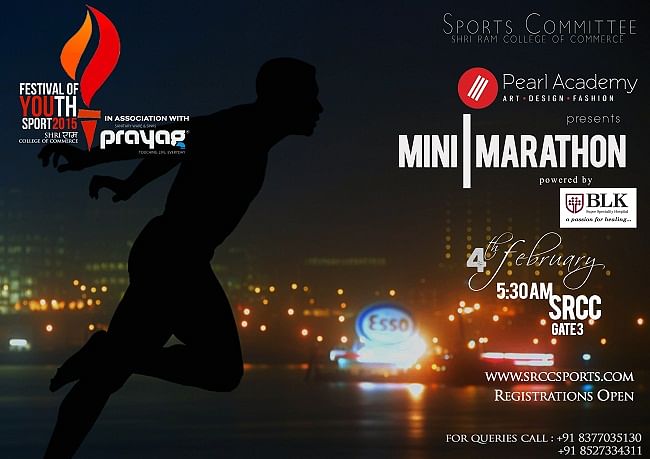 They say if there's a will, there's a way; and that way will surely lead to the Mini Marathon this Feb is what we say.
The highly eccentric and energetic atmosphere of the flagship event of the FESTIVAL OF YOUTH SPORT, the only National level youth sport Fest in the whole of DU, is one of the most anticipated events associated with the name of SRCC.
A sure crowd puller, taking you from the dozy, lazy mornings to a world rather unexplored by our current lot of youth, So come Join us, run for yourself, Run for Delhi.