Heritage games lost (Out) in the fray of modern-day sports.
Have we forgotten our past in the sports competitions like in other walks of life?. We see change, change and change everywhere but there may be some people who might have something in their remembrance before they feel the ensuing changes in the sports and games arena of the valley. Since the introduction of instant popular games like football and cricket, how many of us know that there were some other games being played in every nook and corner of the rural India few decades ago. The games are now seen rarely played by anyone in the country.But one can not erase the history of those games, which were more popular than any other game of the present times. They had their own way and style, they had their chaste and craze and those ancient games had their jubilant winners, cheers and the entertainment players. Today when our children are totally involved between the stumps and goal posts, the local games being played for centuries in the valley have been bowled out. The indigenous games once played have much common with throughout India. For example " Suza-Loung" of Kashmir was familiar as " Paandi" in south India and " Lathkeeji-Loth" in Kashmir would mean Gilli-danda in rest of the country. The dragon-fly has figured in rural games and what adds to the interest is the game of "Trupas", the pebble-game once upon a time being played by rural youth comprising both boys and girls. The interesting part of these games was that, they were being played without any decisions of a third person like not having any vigilance of an umpire or referee. Now let us see what some  of our heritage games were, that are lost and perhaps can't be restored.
"Souza-Loung": An outdoor game played with "Souza' a small baked rounded earthen disc. A player has to "lounge" (hop) on one leg while driving out "Souza' with the push of the front toe from various rectangular regions of the playing court. The court usually measures 3 meter x 2 meter consisting of six or eight equal regions made on hard level ground. It is a team as well as an individual game.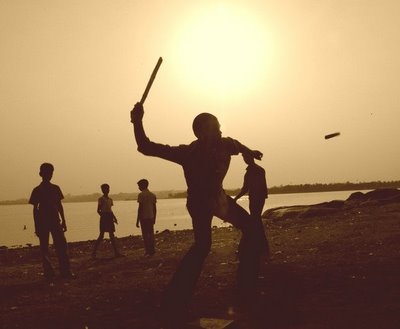 Lathkinj-Loth It is a game called "Gilli-Danda" in other parts of India. "Lathkenj (Gilli)" is a small but a strong piece of wood, about 15 to 18 cms long with edges tapering on both sides. The diameter is usually 2-4 cms. Loth(Danda) is a strong piece of hard wood, 8-11 cms in diameter and about 50 cms long usually three times the size of Lathkenj. The game can be played in pairs or individually by two or four players. If the players are in pairs, a pair of Lathkenj and Loth is used. In order to decide which team has to play first, a team leader from each side starts "Barish" by turns.
Trupas Trupas played mostly by young girls in rural areas is an indoor game and has to do with five small rounded pebbles almost equal in dimension. The game is played (sitting on the ground) with one's left or right hand. Yes….. Any person (male or female) presently above or around forty years of age can describe the chaste of playing Trupas. Another part of playing with small pebbles was to play " Panchas", a game of five small pebbles. The player takes the Trupas in her hand and scatters them on the floor in front of her. The game starts by picking one of them throwing it up n the air and picking the other pebbles from the floor first in singles and then in doubles without letting the pebble in the air to fall on the ground. The other girls sit around watching the feat and waiting for their turn. The number of players is usually four and the game is played individually.
Apart from above mentioned games, there are many other rural games played once in every season in the rural India but now the playing rules of such games have been wiped off from the memories after the introduction of limited over cricket. Children now know only about the dubious decisions of LBW and whether the benefit of doubt given by the umpire holds true or not. Alas! The Indian heritage games are lost in the fray of modern-day games and fashion-sports. The fact is that neither we are in a position to restore our cultural values or preserve our heritage, nor we could do any justice to our age-old heritage games in India.