India Fail The Tajik Test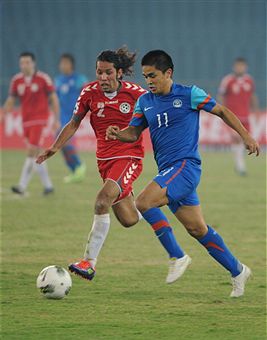 One of the most common saying in football- "If you don't take your chances, the opponents will come back biting at you", came true in the inaugural fixture of the AFC Challenge Cup for India against Tajikistan, here in Kathmandu.
The match was evenly contested with both the teams dominating in patches till a nine minute blitzkrieg  in the second half hit the Blue Tigers in which the Persian Lions scored two goals.
The opening five minutes were dominated by the 2006 champions, but India staged a come back and dominated the rest of the first half with creating some goal mouth action.
Sunil Chettri was through on goal but Tajik defender, Ergashev Davronjon, saved his side from conceding. In another situation, the India captain was outnumbered by four Tajik defenders. The best chance of the first half came Anthony Perreira's way when he  wasted a clear shot at goal from the edge of the six yards box.
The Blue Tigers deserved a goal for their first half display but it's wasn't easy to go past the Tajik defense. Adil Khan and Rocus Lamare were brilliant with their defensive duties but they lacked the creativity and the spark while going forward. India were solid with their defending in the first half but lacked the finishing touch.
After a goal less first half, Tajikistan came out with more intensity and broke the Indian hearts in the 61st minute. A lofted cross headed by Tokhirov Farkhod was saved by the Indian Goalkeeper,Karanjit Singh, but was rendered helpless with the rebound hitting Gouramangi Singh's heels. The ball fell to the Tajik forward, Khamrakulov Akhtam, who, slotted the ball into an unguarded net.
This was the turning point of the match, after which, the Indian side went out of steam. The Tajiks grew in confidence and attacked more. Five minutes later, Samir Naik headed a Tajik corner onto the feet of Davronov Nuriddin, who struck a perfect shot into the bottom corner. Karanjit Singh was unsighted because of all the players in the box and it will be wrong to blame the Salgaocar goalkeeper.
Jewel Raja was introduced in the 69th minute for Anthony Perreira but it was of little use. However, the introduction of Abranches for Sushil provided some tooth to the Indian attack.
When asked about the reasons for the loss, Savio replied,"This is a new bunch and they do not have the experience of the high intensity of international football". He even spoke about the gaps in the midfield in the second half.
Sunil Chettri looked like a frustrated figure during the end of the match, but one can hardly blame him for the lack of service?
Match Stats:
India -0
1-Karanjit Singh, 16-Samir Naik, 19-Gouramangi Moirangthem Singh, 3-Raju Eknath Gaikwad, 22-Syed Rahim Nabi; 12-Anthony Pereira (68′ 28-Jewel Raja Sheikh), 21-Rocus Lamare, 17-Adil Ahmed Khan, 26-Francis Fernandes; 18-Sushil Kumar Singh (81′ 9-Joaquim Santan Abranches), 11-Sunil Chhetri [C]
Tajikistan -2
1-Alisher Tuysher; 44-Alexey Negmatov, 4-Eraj Rajabov, 6-Davronjon Ergashev, 3-Sohib Savankulov; 11-Farkhod Tokhirov (79′ 34-Ilhomzhon Ortikov), 10-Dzhakhongir Dzhalilov, 8-Sakhmadali Adykov, 18-Fatkhulo Fatkhulloev (86′ 17-Dilshod Vasiev); 13-Akhtam Khamrakulov (70′ 22-Yusuf Rabiev), 9-Nuriddin Davranov