Ironing the ironies of unsung Indian sports
Disclaimer: The opinions expressed in the article are those of the author and do not necessarily reflect those of the site
Today, when I think about my childhood dreams of becoming a sports star, I wonder what would have happened if I had joined a sports club and pursued the sports which I liked. I had insisted on pursuing my career in sport but my father wanted me to focus on my studies. I was dejected. However, looking at the present sports getting skewed to a single sport (Cricket) justifies the decision which was forced upon on me at that time. Sportsman is a person who works continuously in the harshest of environment to excel at his game and beat his opponent who too has spent his entire life excelling in the game they both loved. So, it's a battle between people who share a common interest, and the winners and losers are not fate dependent, rather the one who can outplay the other.
One question that I want to ask is that, Is Dhoni more talented than Yogeshwar Dutt? or for that matter Somdev? Well, no one can compare the best Mechanical Engineer to the best Computer Engineer or an engineer to a doctor, each of them has their right to be respected and rewarded.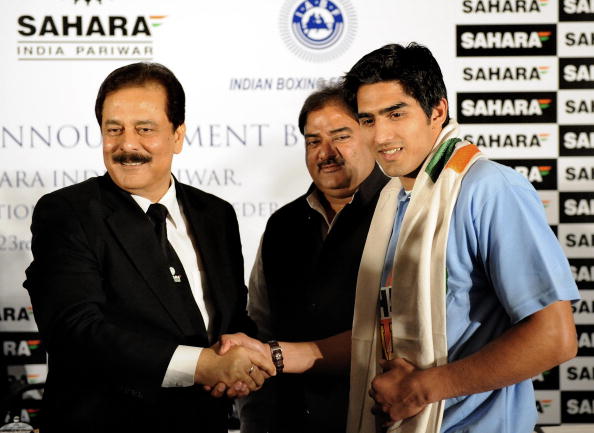 If this is so, then why it is the case that one Indian Sportsman ranks 31st in Forbes' richest list whereas there are players like Shiva Keshavan (Asian Gold Medallist and a Luge pioneer) who struggles to continue with the sports due to the lack of funds to go outside and also to sustain a coach? Keshavan was offered to represent Italy in 2002, but he refused because he wanted to contribute to the country he was born in. However, a country of a billion has not even blinked, nor heard of this game of dangerous speeds and sharp sledges, as to how this great player can singlehandedly lead himself and his country to glory.
Indian youngsters like sports which is evident from the fact that Indians can stay awake all night long to see the Fifa World Cup. But the Indian young generation does not follow Indian football, yet a film on an unsung sport (Women Hockey) in India created a craze which was never before seen. With overdoses of Cricket and declining interests among masses with ubiquitous matches, cricket has become a game which is played not for pride, rather just as a form of an entertainment. Today it has become imminent for Indian Sports to find a new sport where it can excel and generate interests across India and give passionate Indian sports hungry enthusiasts a new joy to boast about.
All this clearly indicates that there is a huge scope for our sports facilitators (Government, corporate and media) to start revolutionizing unsung sports and give the world's youngest Country (in terms of age) many sports to cheer about.
Imagine the justification of the World Cup, where only 12 teams participate, to the Commonwealth Games and Olympics where more than 100 countries participate, but still the shine of Cricket World Cup overshadows any other sports in India. One question I would like to raise is, who should be given more respect – A person who came first after having more than adequate resources or that guy who proved his mettle in a more competitive environment inspite of being ridiculed with low rewards and no admiration?
Every person who has ever loved any sports knows the thrill that one gets if he takes certain risks and win over his opponent; the same thrill is felt when one gets to see it in the visual form. Now see the amount of grey matter that is required for Vishwanathan Anand to remain as a top player of his game again and again and it can't get more challenging than to skid at the speed of 140km/hr on a wooden plank from the top of mountain in tough conditions. So, we can see that there is enough opportunity for every sport to provide the same excitement and thrill as people can expect from any other sport medium (like cricket). What is required the perfect strategy to market it in the nice direction. It will only help in the creation of more sportsperson in many different arenas, but ultimately lead to the upliftment of the nation's sports infrastructure. Well, there are many sports manager who would love to create this transformation and give the sports starved nation many reasons to be happy.
Whenever one studies about Djokovic's life and the way he faced all his hurdles to reach where he is today, one gets inspired. Indian people like successful stories; they did it with Saina Nehwal, Sania Mirza, Abhinav Bindra et al. Now, it has become imminent for Indian corporates to start investing their money more on such sports which are yet to reach their saturation level. If done in a proper manner it will definitely create a platform where they too can gain as the long term sponsors.
Indian Government should take some inspiration from its Chinese counterpart. China thinks of its sports as a matter of pride for its nation and instils this mentality in its youngsters to excel in any form of sports. China has formulated a special "Gold Strategy" for achieving highest number of gold in Olympics. Although India can't duplicate what China did, but still there can be initiatives like giving more incentives to State Governments who are giving benefits and platform to the young talent to pursue their loved sports and appreciation of the officers in terms of rewards for identifying new talent in different sports can be given by the Indian Government. Government can start giving grants to schools and institution who have invested in extending their support in helping to identify the local talents. Many schemes like providing good high paying jobs and security to these new identified players can be done such that they remain focussed towards their game and continue doing well and see sports as their career opportunity.
Government giving certain benefits (tax benefits etc.) to private corporations who support unsung sports would motivate more and more private players. It would also be a win – win situation for both the private players (they can see these investments as a long term strategy) and Government, as they can have investments in these sports without having much financial burden. It's also important for media to create a Sachin and Dhoni in every sport such that media can have many more celebrities in different sports to follow and get more content in sports.
Indian Sports can be diversified where many different sports co-exist. With some initiatives and collaboration, sportsmen and young people who have found their love in certain sports can continue taking it up and become  world class players in that sport, rather than becoming an average professional like me who does his job just to meet his daily expenses and repents about Indian sports scenario. On one hand, we have millions of rupees getting distributed freely, and on the other hand there is no one to see the austerity in which other sports hero are living.
 P.S: I am not anti – Cricket in India. This article is just for the love of the sport which I left and it's a tribute to many of my sporting heroes who have spent their life playing passionately without gaining anything financially.