Olympic medal winner. 4th degree black belt judoka. One of the most iconic MMA fighters of all time. Ronda Rousey has done it all across sport.
In a sport with a previously negligible female presence, Rousey has brought it fame, recognition and a concrete identity. One of the biggest draws of the UFC today, Ronda Rousey has an unparalleled fan following across demographics.
Transforming the way people look at the sport, she also brought it the face it had been missing for so long. A face that signifies bravery, the ability to face up to one's struggles and keep fighting.
Not only is she at the top of her game, she has been through immense trials to get there. There are still several battles she fights along the way, but she is fearless about them all.
"I don't shy away from any questions. I'm not scared of any question. I'll give you an answer. A lot of people are scared of having actual opinions out there. People are so scared of criticism... I'm not scared of people disliking me."
Childhood trials
Brought up by a single mother, a young Rousey suffered from Childhood Apraxia of Speech (CAS), a speech disorder characterised by the inability to correctly pronounce words and syllables. She has admitted to going through extensive speech therapy to correct it, and was notoriously shy as a result
Ronald Rousey, her father, suffered serious injuries in a sledding accident in 1995. Following this, he also discovered he had a blood disorder, and this, coupled with the pain of dealing with his injuries led the older Rousey to take his own life. Ronda was only eight years old.
Ronda began her training in Judo at a young age guided by her mother AnnMaria, also a champion judoka. AnnMaria won gold at the 1984 World Judo Championships and taught her daughter the martial art as she was growing up. Rousey's mother found no competitive Judo championships for women when she was playing the sport despite the fact that she was a 6th degree black belt, and ended up leaving it to earn an MBA instead. She would also go on to earn a PhD.
She was brought up by her champion mother to never believe there was something women could not do.
Even professional athletes struggle with body image issues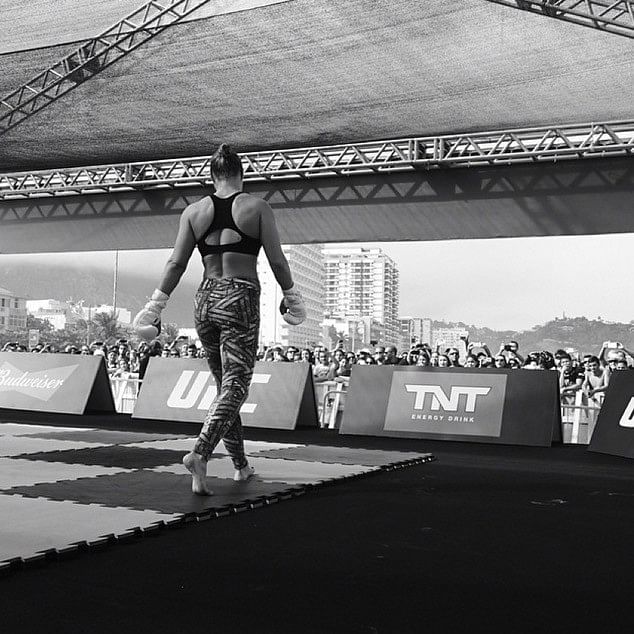 Body image issues are extremely common, especially with young girls and women, although they are not necessarily exclusive to them. This is in large part due to the media, which promotes a body ideal that tends towards the unattainable. Young girls are inundated by images of impossibly tiny bodies selling products that are often completely unrelated, but the images stick.
Fashion also ideates images that even models admit are very difficult to keep up to. Starvation, extreme restriction and diets are often involved in making models look the way they do, and these images are perfected by photo manipulation software, but the finished product is still one several young girls aspire to.
Rousey was no stranger to this herself. Prior to her entry into UFC, the champion was dealing with anorexia, and spoke of this in her Reddit AMA. "It feels liberating to free of the guilt that used to come with every meal. And I feel like I have so much extra space in my brain now that I'm not constantly thinking about the next meal and trying to eat as much as possible every day while still losing weight," she says.
In speaking openly of her eating disorder, which she dealt with whilst juggling a full-time, high-energy career as an MMA fighter, Rousey has opened a part of herself that many world over will both connect to and sympathise with. Having an idol to watch recover through an eating disorder is an extremely important thing, especially considering the fact that EDs have long-lasting effects on a person – and these effects are not purely physical.
Her recovery is an inspiration to several young teens and adults who are fighting a daily battle with food, guilt and their own weight.
In addition to this, 'fans' and sections of the media described Rousey as 'masculine', and insinuated her body was muscular and manly. Rousey responded strongly to critics, saying "there's not a single muscle on my body that isn't for a purpose."
She highlights the importance of health over appearance, which is an extremely important message in light of the prevalence of several industries that function solely on the basis of promoting impossible body image ideals to women.
Public sexism
Rousey has faced sexist diatribe from a few colleagues and several armchair critics over the media and internet. Most famously, Floyd Mayweather, when asked about Rousey following her recent victory over Bethe Correia, was asked about the women's bantamweight champion in an interview. He responded with "I don't know who he is," following this up weeks later asking Rousey to "make real money" before he spoke to her.
Rousey, however, did not take this lying down. She won the ESPY Sportsperson of the Year award this year, beating Mayweather to the prize. In rejoinder, she asked Mayweather how it felt to "be beaten by a woman for once."
Mayweather has been in the news continuously for several allegations (and convictions) of domestic violence against various partners over the years, and has confirmed without shame that he does in fact partake in it.
Rousey speaks repeatedly of the importance of independence, of how women should not be 'do-nothings' and 'take care of themselves'. In a world where pictures, film and media rhetoric constantly give women the idea that they must 'be' a certain way in order to be 'liked', she gives them the all-important message that the most important thing in the world is to be oneself – for nobody else, a message that will go a long way in helping women world-over build a self-belief they may not have previously had.