"I am in a relationship with golf": Sharmila Nicollet
2.40K //
08 Mar 2013, 13:01 IST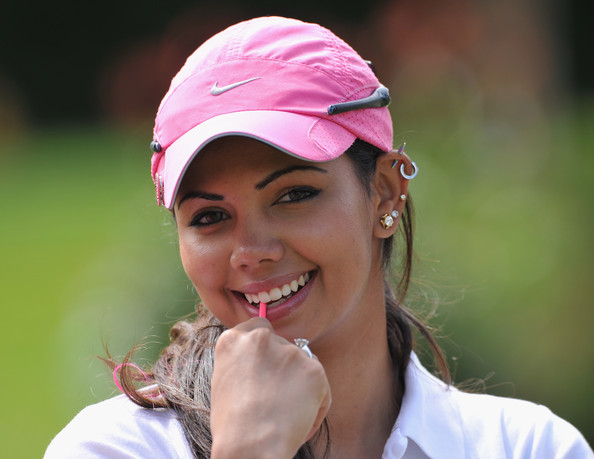 On the occasion of 'Women's Day', Sportskeeda caught up with one of the most popular female golfers in India, Sharmila Nicollet, at the Hero Women's Pro Golf tour in which she is participating. Here are some excerpts from the exclusive interview:
Q. You finished third today. What went wrong for you?
Today was just a really bad day. It was like a roller coaster for me. Everything went wrong. The sun is torturous in Mumbai.
Q. Is it true that you are playing despite having injuries?
Yes, I am on a heavy dose of painkillers as I have injuries in the spleens of both the legs.
Q. Don't you think playing with injuries will further instigate them?
Well, I just can't stop myself from playing. Also, we are required to play certain number of tournaments so I couldn't pull out. Earlier, I suffered a rib cage injury which was much worse than this one, but I still played. However, I have pulled out from the next two tournaments happening in India as I am going to head back to Bangalore and work with my physio for rehabilitation.
Q. When are you leaving for the European circuit?
I will be heading to Europe in the last week of March; so hopefully before that, I should be fully fit.
Q. How important is fitness for a golfer?
It plays a very important role. To speak for myself, I am a total fitness freak and I make sure I work out for at least one hour everyday. Most of the times, when I am not playing golf, you will find me in the gym sweating it out. I also do a lot of yoga. I have Indo-French genes so I have to work really hard on my body. Also you have to be very strong mentally to play the game. I think 80 percent of the game is mental.
Q. Golf is considered as a sport for the very elite class. Do you think this is the reason it is not that popular among the masses?
Yes, playing golf is definitely a tough task for any middle class person as it involves huge expenses like club memberships, gear and travelling. I think more investment should be made in the game by corporates and others to make the game more accessible to everyone.
Q. What are your future plans in golf?
I plan to do well and win some International tournaments. I am really working hard for it. I think me winning an International tournament will really boost the popularity of golf in India. Just the way badminton received so much attention once Saina Nehwal came into the picture after winning an International tournament, I hope for the same with golf.
Q. You are considered as one of the best looking women in sports. What do you have to say about that?
Well, I am flattered. I take it as a compliment. I like adding fashion to sport and while most of the people may criticize it, I think it is important as people notice you and want to know more about the game. If me being the face of golf helps to raise its popularity, then I am really proud about it.
Q. Any plans of walking on the ramp?
As of now, golf is my priority. The game has given me so much and whatever I am today is because of it. I want to give it all back to the sport and therefore I don't want any distractions. I already have a lot of modelling offers and movie offers. I would love to do anything which is connected to golf. For example: a shoot for golf or say a role where they portray me as a golfer.
Q. What kind of a person are you off the golf course?
I am a very tomboyish kind of girl. I love junk jewellery, I love cars. I own a modified car. I am also an ambassador for Audi and plan to buy one maybe later this year.
Q. Are the rumors true about you dating Virat Kohli and Pankaj Advani in the past?
Absolutely not. I know Pankaj and he is a very sweet guy and a friend. Virat and I are  friends as well. I am not looking for any kind of relationship right now as I am already into one with golf.