Lahiri confident of defending Avantha Masters title
671 //
13 Mar 2013, 18:58 IST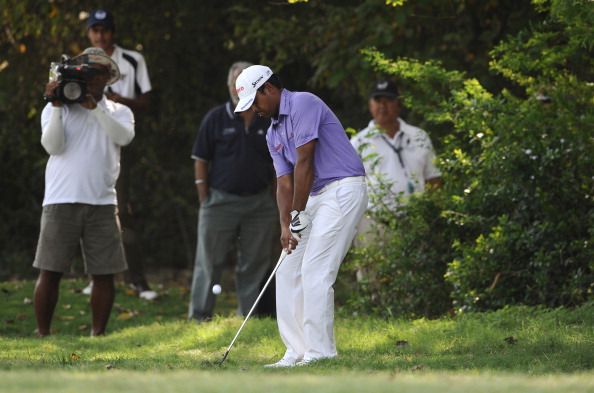 Greater Noida - Three-time Asian Tour winner Anirban Lahiri of India is confident his mental strength will make the difference as he goes in search of a back-to-back victory at the 1.8 million euro Avantha Masters which tees off here Thursday.
Fresh from securing his third Asian Tour win through yet another play-off on home soil last week, Lahiri believes the training from his Vipassna meditation will set him apart from the rest of the strong field at the Avantha Masters which is tri-sanctioned by the Asian Tour, European Tour and Professional Golf Tour of India (PGTI).
"My Vipassna training has definitely helped me a lot. It's like swimming or cycling. Once you've learnt how it, you'll not forget how to do it anymore," said Lahiri.
"It really depends thereafter how much you practise it. I've not practised it as much as I would like but I'm glad that it's still there with me."
While Lahri is feeling at the top of his game, his rise was also met with several challenges along the way.
"After my first win, I suffered a bad patch and struggled through the second half of 2011. I've learnt from that last year and managed to keep it going and this year I would like to do more of the same," said Lahiri.
The Indian registered only one top-10 after his maiden breakthrough in 2011 but enjoyed a memorable year in 2012 when he won his second Asian Tour title and enjoyed four other top-10s to end the season in 10th place on the Order of Merit.
The season was also highlighted by a successful Major debut at the British Open where he finished tied 31st.
"Obviously the goals are different this year and I'm really glad I won last week as it has given me a great boost to the start of the year. I'm looking to push on and play well in the co-sanction events and get my world rankings up especially with the Olympics approaching," added Lahiri.
All events on the Asian Tour as well as Asian Development Tour (ADT) receive Official World Golf Ranking points and the winner of this week's Avantha Masters will receive 20 world ranking points.
Meanwhile Jeev Milkha Singh, who is widely regarded as the flag bearer for golf in India, is pleased that he is starting the week in the best of form.
After being plagued by various injuries throughout his illustrious career which has seen him win six times on the Asian Tour and recording three other victories on European soil, the Asian Tour honorary member is ready to compete in the pink of health.
"I'm injury-free and I think that's a good story to tell. Normally I would have been injured for the last five years. I'm feeling good about my game as I can hit the balls the way I want to now and not worry about any injuries," said Singh.