Meditation helped me rediscover myself: Anirban Lahiri
862 //
06 Mar 2012, 11:51 IST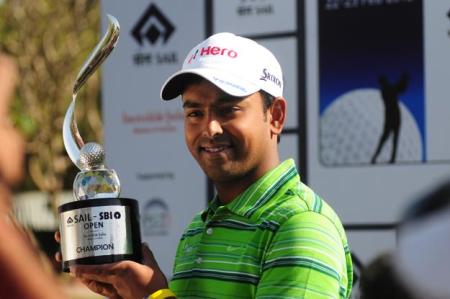 The Karnataka Golf Association (KGA) is buzzing with energy all thanks to the golfing stars who have decended on the Bangalore course for the start of the inaugral edition of Louis Phillippe Cup that begins here on Wednesday.
The field includes the likes of Jeev Milkha Singh, Jyothi Randhawa, Digvijay Singh, Gaganjeet Bhullar and several other top ranked golfers from the country. In an open media session organised on Monday, young gun Anirban Lahiri who is in speldid form after winning Asian tour and sealing a dream spot in The Open Championship spoke to the gathering about his big wins and how a ten-day meditation course was the key to his success this season.
Excerpts:
Last year wasn't as great for you. But you have been able to bring about a complete turn around in your performance this year… Your comments on your progress and qualifying…
It's a great feeling and I think it will only sink in once I tee off at the Open. It has always been my dream to play in the oldest and the most prestigious Major. Now that I have finally made it, the feeling is awesome. Last year I got off to a great start and then went into a slump. I took my foot off the pedal and I've learnt from it. The second half last year was disastrous in terms of opportunities and not taking them. I've also matured from having played badly in the second half of last year. I'm going to take this victory (Sail-SBI Open) in my stride. My focus levels will be a lot higher this year as compared to last year. Hopefully I'll learn from my mistakes and improve on my performance.
Did you do anything different in your preparations this year?
I took a ten day meditation course in January. I went to the Vipassana International Meditation Centre in Hyderabad. I had done it before and the course has always helped me to rediscover myself. I didn't go specifically for my golf, it has always helped me to get clarity in my personal life and in my head and that translates into my golf. I've become less angry on the golf course. It has also helped me stay in the present and not get ahead of myself.  My expectations went up after the victory last year at the Panasonic Open and I started getting in my own way. That is what I must do differently this year. I still need to focus on the process, on my routines and practice and not worry about the results.
What's on the cards this season. How do plan on taking your performance further?
I just want to go out there and enjoy my game. As far as the target is concerned, I am not thinking about any quantitative goals nor do I have money target. This approach has helped me in the past and I am sure that it will be helpful even now. I'm not setting any quantitative targets this year. My targets this year are to perform well and compete in some of the co-sanctioned events. That is where my record hasn't been the best and I need to improve. I'm focusing more on competing and playing well in the bigger events. If I can stick to my goals and doing better in those (bigger) events, the results should follow. There still a long time to go till the end of 2012 and let's hope for the best.
Would you be keen on moving westwards to the European and PGA tour like many other golfers?
It is a difficult question to answer with confidence because golf is a funny game. Sometimes it takes five years to take you to a higher level. Sometimes in the space of two years you can go up two or three levels. I have seen a few who have done that. Everybody has his own time. I can't say how quickly I can get there, but my endeavour is to get there. However long it takes I'm ready to work till then and afterwards as well.
You will be playing in front of home crowd in the LP Cup starting Wednesday. Tell us a little bit about the Bangalore team…
We definitely have some strategies in place. Over the first two days we are focusing on playing conservative aggressive golf and it is probably best to go all out on the last few days. As far as my team goes, Manav and I have played together and practiced together before. Abhishek Jha is in good form as well. He just won some money off me, so he is doing good (laughs). The great thing about playing in a team is that you put your heads together and come up with strategies that work best for us.