Neha wins BT Pro Am of Champions
698 //
10 Mar 2013, 19:29 IST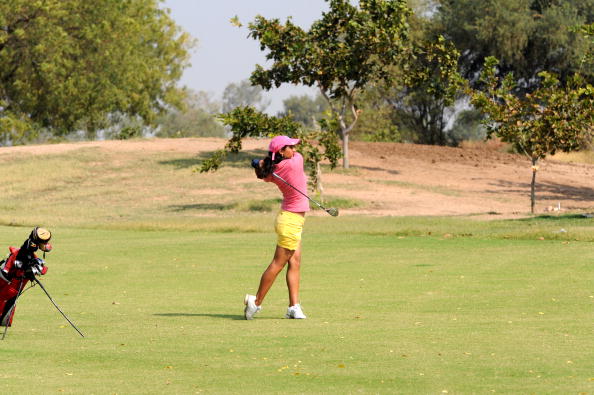 Manesar - In a nail-biting finish, Indian golfer Neha Tripathi edged past Thailand's Pennapa Pulsawath to win the 18th edition of the BT Pro Am of Champions.
With both the players tied after the second round at identical scores of 141, the match was decided by a playoff and Neha emerged victorious in the second playoff on the 18th hole.
Overnight leaders Neha and Pennapa both played a steady round of par 72 to finish at 141. Neha carded birdies of the fourth, fifth, 12th and 14th and had bogeys on the second, sixth, 10th and 11th. Pennapa sank birdies on the first, seventh, ninth and 18th and bogeys on fourth, sixth, 12th and 16th.
Just like the first round, both the players fought it out hard and it was very closely contested final day. Neha was leading at the 17th, however, Pennapa carded a birdie on the 18th to level the scores forcing a play off.
Veteran golfer Smriti Mehra made a remarkable comeback to finish third. She was brilliant throughout the day as she carded seven birdies on third, sixth, eighth, 12th, 13th, 14th and 18th holes. Her only bogey came early at the fourth and she didn't look back from thereon to finish the second at a brilliant six under 66 and a total score of 142.
She was placed tied eighth after the first round.
Thai golfer Tiranan Yoopan played a solid round of one under 71 to finish fourth with a total score of 143. Tang Ni Nhung of Vietnam finished fifth with a total score of 148.
India's Rani Sonti finished tied seventh with Amolkan Phalajivin of Thailand and Hathaikarn Wongwaikijphaisal, also from Thailand, with identical score of 150. Vani Kapoor with total score of 151 finshed tied 10th along with Ainil Abu Bakar Johani of Malaysia.
Leaderboard
Neha Tripathi – 141 (69, 72)
Pennapa Pulsawath – 141 (69, 72)
Smriti Mehara – 142 (76, 66)
Tiranan Yoopan – 143 (72, 71)
Tang Ni Nhung- 148 (75, 73)