Siddikur surges into one-shot lead at SAIL-SBI Open
631 //
08 Mar 2013, 18:10 IST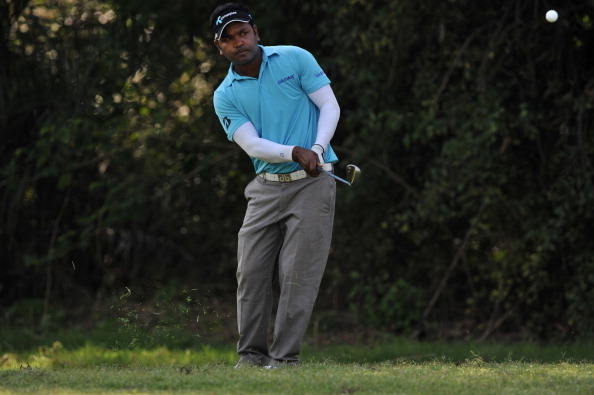 New Delhi - Bangladeshi Siddikur was rock steady as he carded a third straight four-under-par 68 for a one-shot lead over title holder Anirban Lahiri of India at the SAIL-SBI Open Friday.
Siddikur put himself in prime position to win a second Asian Tour title after firing five birdies against a lone bogey at the Delhi Golf Club to lead from Lahiri, who birdied his last two holes for a bogey-free 66.
Joint overnight leader Khalin Joshi battled to a 71 to end the day two strokes back in the $300,000 event while local hope Rashid Khan was a further shot behind after a 71.
Thailand's Chapchai Nirat and Shiv Kapur will enter the final day four off the lead after rounds of 67 and 69 respectively while American Chan Kim stumbled to a 74 to fall out of contention.
"I've been very consistent. I'm happy with myself with three 68s. I've been trying to get more regulation play and it's been working," said Siddikur, who hit 12 fairways and 14 greens in regulation.
Siddikur's round was highlighted by a monster 40-foot birdie conversion on 16 but he said a par save on 18 after finding the punishing bushes was crucial as it kept his nose ahead of the defending champion Lahiri.
The 25-year-old Lahiri, who started the day four behind, charged into contention with a superb display of ball striking as he hit 15 greens in regulation.
"It's the best I have played all week. I'm getting more comfortable on the greens. Just a couple of bad swings but I got away with pars which was important. Four putts kind of stood at the lip but I'm not going to complain as some fell for me in the end," said Lahiri, who is seeking a third Asian Tour victory.
Scores after Round 3 (a- denotes amateur):
204 – Siddikur (BAN) 68-68-68.
205 – Anirban Lahiri (IND) 71-68-66.
206 – Khalin Joshi (IND) 66-69-71.
207 – Rashid Khan (IND) 72-64-71.
208 – Chapchai Nirat (THA) 66-75-67, Shiv Kapur (IND) 69-70-69.
209 – Matthew Stieger (AUS) 70-71-68, Chan Kim (USA) 67-68-74.
210 – Pawin Ingkhapradit (THA) 70-69-71.
211 – Antonio Lascuna (PHI) 71-73-67, Adam Groom (AUS) 71-71-69, Boonchu Ruangkit (THA) 72-69-70, Lam Chih Bing (SIN) 73-67-71, Ajeetesh Sandhu (IND) 70-70-71, Thitiphun Chuayprakong (THA) 72-67-72, Chiragh Kumar (IND) 68-70-73.
212 – Namchok Tantipokhakul (THA) 69-75-68, Scott Hend (AUS) 73-71-68, Rahul Bajaj (IND) 73-68-71, Baek Seuk-hyun (KOR) 71-69-72, Vinod Kumar (IND) 73-73-66.