Thaworn crowned Asian Tour No.1
594 //
16 Dec 2012, 20:35 IST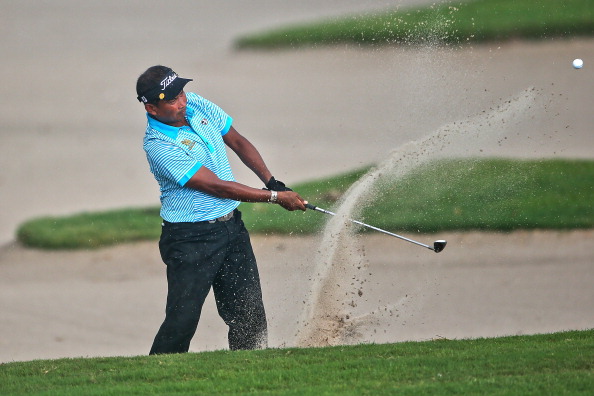 Nusajaya (Malaysia) - Thaworn Wiratchant sealed his place in the Asian Tour's history books by winning the Order of Merit title for a second time in his chequered career following a closing seven-under-par 65 at the season-ending $2 million Iskandar Johor Open.
The Thai veteran saved his best for last with eight birdies against a lone bogey at the Horizon Hills Golf and Country Club which saw him finish five-shots ahead of closest Merit challenger Marcus Fraser of Australia, who closed with a 72.
Thaworn became Asia's oldest No.1 at the age of 45 years and 351 days after a glorious year which saw him win three times and take his career tally to an all-time high of 15 titles in 2012.
He endured a bumpy ride in the Merit race as he struggled with fatigue all week and had to keep a close watch on Marcus, who started the final round two shots ahead of Thaworn and needed to earn slightly over $25,000 this week to become the first Aussie to win the Order of Merit.
Thaworn, who won the Order of Merit with earnings of $738,046, ended the rain-shortened week in tied fifth position.
"I didn't feel any pressure because there was only one competitor – Marcus Fraser. I put in a lot of effort and focus to win this year so I'm very happy that I finished as No.1," said Thaworn.
"I never thought I could win the Order of Merit at this age."
Thaworn was triumphant at the Queen's Cup on home soil, Worldwide Holdings Selangor Masters in Malaysia and Hero Indian Open this season. He also set what is believed to be a new world record for lowest number of putts in a tournament, making 91 putts at the King's Cup in Thailand two weeks ago.
His Merit success will see Thaworn earning a five-year exemption on the Asian Tour and also gain exemptions into the British Open and World Golf Championships-Cadillac Championship next season.
"The record which I've set is for someone to break. It can't be there forever. This is my work and my career. That's why I play in every tournament that I can," he said.
"This year I only won three titles but in 2005 (when he won the Merit title) I won four events. The competitors are different now. There are new players coming in and I'm getting older. That's not an excuse but I definitely tried harder this time compared to last time."