World's new golfing prodigy "wants to play for Hong Kong"
1.81K //
21 May 2014, 08:57 IST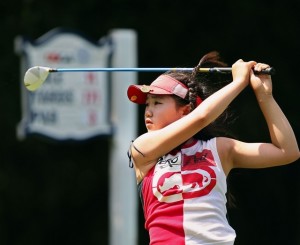 Remember the Chinese American kids who won at Augusta last month? One of them – 11-year-old Lucy Li – has just qualified for the US Women's Open at Pinehurst and will become the youngest ever qualifier to play in the June 19-22 tournament, beating Lexi Thompson's record (who was 12 in 2007). What's more, Li wants to play for Hong Kong, where her family is from.
According to the SCMP, Li was born in Santa Clara, lives in Redwood Shores, California, and holds a US passport, but her mother has a Hong Kong identity card and "the family has told [Hong Kong national team coach Brad] Schadewitz she wants to play for Hong Kong."
For that to happen, residency would have to be established, but Li would be quite a catch. For the record, the two 12-year-olds to play in the US Women's Open – Thompson and Morgan Pressel, now 19 and 25 respectively – have each won a major title. One 10-year-old, Beverly Klass, played in 1967, but that was before players had to qualify.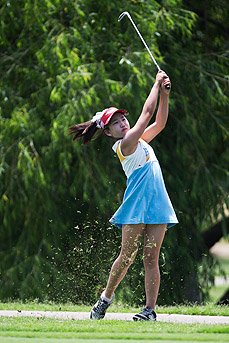 In addition to winning the Drive, Chip and Putt Championship at Augusta last month, Li already has an impressive pedigree. Last summer, as a 10-year-old, Li broke Michelle Wie's record as the youngest match-play qualifier in US Women's Amateur Public Links history. Two months later, she became the youngest ever qualifier for the US Women's Amateur. In 2011, she won the Future Champions Golf (FCG) World Championship, as well as the San Diego Junior Masters Championship and the Junior Golf Association of Northern California (JGANC) All-Star Championship. She also won a tournament in Hong Kong that year while visiting her grandfather.
But unlike some golf prodigies, Li wasn't holding a club as soon as she could walk. She took diving lessons at Stanford University and was diving from the 10m platform as a 4-year-old – despite not being able to swim at the time. Then came gymnastics and music, and it wasn't until she was 7 that she first took up golf, swinging a club while watching her older brother Luke hit some balls at the driving range. She showed so much promise that her parents roped in Jim McLean – former coach to Lexi Thompson. The rest, as they say, is history, but you can guarantee there are several more chapters (or volumes) waiting to be written.
Korean-born NZ golfer Lydia Ko, already the world number 3, turned pro last year at the age of 16, so don't expect Li to abandon the ranks for many more years yet. While amateur golfers can't, of course, sign endorsement deals, many young golfers happily take free equipment and clothing from the major sporting labels. Li seems more keen to wear age-appropriate clothes for the time being, but expect a scramble for her signature when the time is right.
In the meantime, assuming the paperwork can be sorted out in time, Li could soon be representing Hong Kong in the Olympics. Given the qualification system of admitting 60 players in each of the men's and women's tournaments based off the world rankings, Rio 2016 could be too early, but Tokyo 2020 could come at a perfect time.