Gymnastics prodigy Josh Karnes was recently honored during a football match in Pennsylvania. The American gymnast made headlines in April by securing the gold medal in the parallel bars event at the reputed Big Ten Championships 2023 held at the Ohio State University campus in Columbus, Ohio.
During the championship, scheduled from March 31 to April 1, Josh Karnes from the men's junior gymnastics team, scored an impressive 14.550 on parallel bars on Day 1 of the championship, which qualified him for individual event finals on Day 2. The Penn State University sophomore won the gold medal with a 14.350 score.
It was impressively his seventh consecutive parallel bars score above 14.000. Besides winning the gold medal in parallel bars at the Big Ten Championships, he also managed to grab a fourth-place finish in his floor routine. Nevertheless, the young gymnast's stunning performance at the championship also earned him a spot on the U.S. Senior National Team.
Paying respect to his great performance at the Big Ten Championships, the gymnast was honored at a recent football match in Pennsylvania. In an image shared by the Twitter page, Penn State Men's Gymnastics, the 19-year-old was spotted at the football field and waving to the spectators.
---
Josh Karnes faced trouble for years due to his injuries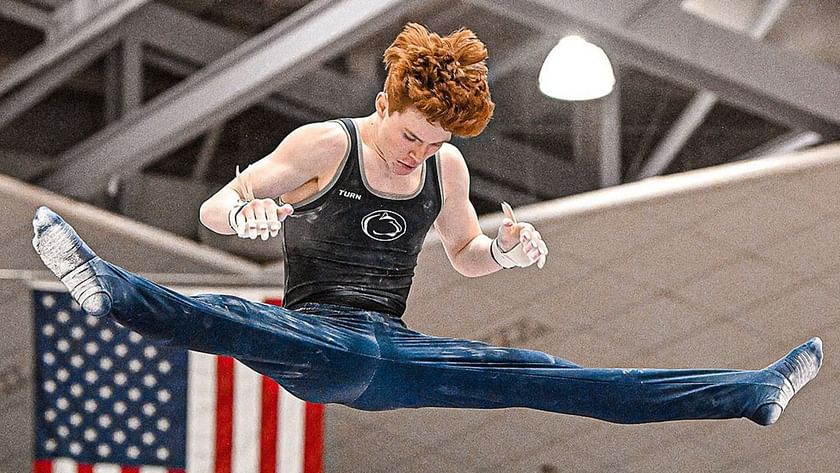 Josh Karnes' athletic journey has not been an easy one, for the sophomore was interrupted by an array of injuries. He faced health issues while he won several national titles as an Erie youth gymnast and a freshman in college.
However, the young gymnast was fortunate to receive assistance from trainer Jessi Neitzel, who changed his training style. In an interview in April, he shared about his recovery journey,
"(Neitzel) came up with different exercises and treatments that really helped me. My coaches knew I would need to change my training plan a lot, so they worked with me to change my schedule and not over-train," Karnes said.
Lastly, he added,
"Some things you have to push past, they said, and I did."
Neitzel helped Karnes see improvement in his health condition as the 2023 season neared. He was troubled by a spine issue that limited his mobility. However, with careful training and rest, he overcame the issue, and also competed at a February meet and the championships that followed after it.
Furthermore, Josh Karnes plans to audition for the Pan American Championships and the World University Games.