Dynamic warm-up exercises before workouts have long been recognized as crucial. Your body is literally warmed up by a warm-up program, which also speeds up the heart and breathing rates and delivers more oxygen to the muscles and tissues.
The stress of transitioning from rest to labor is reduced by gently warming up the body to prepare muscles, tendons, and ligaments for activity. Dynamic warm-up exercises enhance performance and reduce injury risk.
Moreover, dynamic warm-up exercises consist of quick dynamic stretches designed to release your joints and the muscles around them, raise your body temperature, and enhance blood flow. Focusing on the flexibility and stability of joint complexes that will endure the most stress from your workout when performing a dynamic warm-up is important.
---
Best Dynamic Warm-Up Exercises
Here are some of the best dynamic warm-up exercises to do:
1) Straight Arm-Circles
Arm circles are a quick and easy dynamic warm-up exercise that promotes mobility at the shoulder joint. Work through circles of various sizes, starting with smaller ones and working your way up to much bigger ones.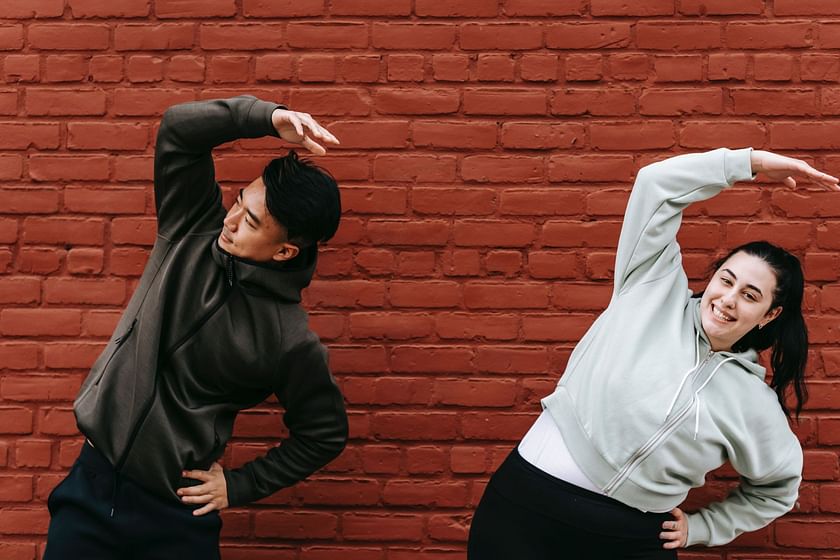 Here's how to do straight arm-circles:
By keeping the arm straight and the shoulder down, concentrate on directing the movement directly into the shoulder.
Maintain stable hips and a tight core.
Draw clockwise as well as anti-clockwise circles with your arms.
---
2) High Knees
This is a quick dynamic warm-up exercise that also includes some cardio. However, be careful to avoid hopping when performing high knees as the action is less controlled and won't be as effective.
Here's how to perform high knees:
Start by standing up straight and placing your hands by your sides.
Lift your left arm and right leg simultaneously. The left arm should extend in front of you as the right knee should be bent till your thigh is parallel to the floor.
Perform the identical motion with your left leg and right arm.
Continue until you complete 10 to 12 reps for each leg.
---
3) Leg Swings
With this dynamic warm-up exercise, you'll prepare your hamstrings, quadriceps, calves, and hip flexors. To maintain equilibrium, you might require a chair.
Here's how to perform leg swings:
If you're using a chair, place one chair on the back and stand behind it to perform leg swings. Otherwise, put your hands on your hips.
Without exerting too much energy, kick your right leg forward as high as you can.
Allow it to swing back down before bringing it back to the starting position after swinging briefly behind you.
---
4) Lateral Lunge With Arm Reach
When performing a lunge, be careful to tuck your hips back and maintain your knees in front of your toes.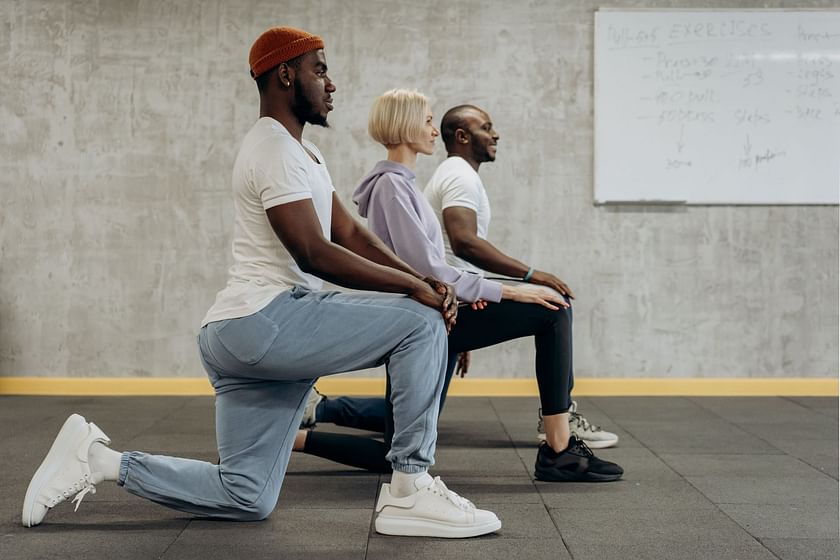 Here's how to perform a lateral lunge with arm reach:
Stand with your legs shoulder-width apart.
Shift your hips back and bend your right knee to perform the lunge.
Touch your right foot with your left arm.
Perform a lunge on other side.
Repeat 10-20 times on each side.
---
5) Trunk Twist
This quick dynamic warm-up exercise can help you relax your lower back. It can also be used to soothe minor back pain or to wind down after strenuous workouts that involve pivoting.
Here's how to perform a trunk twist:
Stand with your feet slightly wider than shoulder-width apart and your hands on your hips.
As far as you can, slowly turn your trunk to the right.
Hold the stretch for one or two seconds in the most extended position before returning to the beginning position.
Rotate in the opposite direction, hold, then reverse.
Rotate in each direction 10-15 times.
---
Conclusion
Before working out, you should perform quick dynamic warm-up exercises, but avoid doing extended holds. The objective is to restore normal mobility and joint stabilization. Your ability to recover from injuries and prevent overheating during your activity or sport is improved by warming up your muscles.